Kodak EasyShare V1253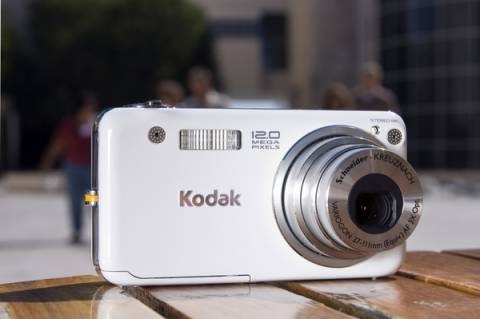 This camera is pretty amazing for a point and shoot, it cranks out 12 megapixels, that's pretty good even by DSLR standards. But there aren't interchangeable lenses, and this thing only has a 3x optical zoom, all that hype for such a let down.
Sure you can record video in 720p and take 12MP stills, but in order to view them on your TV you either have to offload them to an HD optical format for viewing on an HD optical disc player, or you have to buy one of their docks. There is also a 3.1-inch LCD on the back, with reportedly easy to navigate features and menus.
But this cam is $400, and there are some older model DSLRs hitting around the $500-600 price range, so if I had $400 to spend on a cam, I would find some way to get that little extra and get a DSLR with a lower resolution and a better lens. But if you want simplicity alongside HD photos and videos, this is just about as cheap as it's going to get for nice, HD capable, digital camera.
Review: Kodak EasyShare V1253 – DSLR Performance, Point and Shoot Price [via wired]