Kodak debuts new EASYSHARE M580 digital camera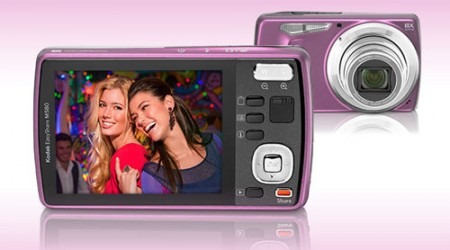 Kodak has a line of digital cameras that are designed to make it easy for users to shoot and share pictures called EASYSHARE. Kodak has added a new model to the EASYSHARE line called the M580. The camera is designed to allow for easy sharing of photos on social networks like Facebook, Flickr, and others.
The camera has a 3-inch LCD on the rear and uses a 14MP sensor. Optical zoom is 8x and the camera has shake reduction. HD video recording at 720p resolution is supported at 30 fps. The lens us a 28mm wide angle unit using Schneider-Kreuznach optics.
The camera has a hoard of automatic features designed to give you great pictures no matter the setting. The camera has face recognition and can be set up to recognize up to 20 faces automatically. The feature automatically tags faces for search and the tags carry over to editing software. The M580 has 64MB of internal memory and stores to SD/SDHC cards. The camera can be pre-ordered now for $199.99 and is expected to ship on April 23.