KNO platform lands digital textbook deal with Houghton Mifflin Harcourt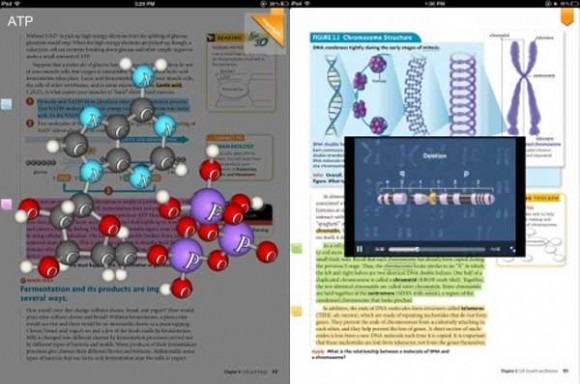 There's a huge benefit to going digital with textbooks compared to traditional print textbooks. Not only are digital textbooks significantly smaller and easier to handle than a traditional print textbook, they can also be changed and upgraded much more easily than a print book that would need to be reprinted to change the information. One of the biggest benefits of digital texts for education is the ability to add 3-D models and video to make learning more interactive.
Educational software company Kno has announced an industry first in the digital textbook market with a deal it landed with Houghton Mifflin Harcourt that covers digital versions of common K-12 textbooks. The digital textbooks will be produced for the elementary and secondary education markets based on HMH textbooks are compliant with core standards. The digital books will be aimed at parents and schoolchildren.
The digital texts will be rented for a period of one year at $9.99 per title. Kno says that the digital texts will be available on the iPad and the Internet immediately and will come to Android and Windows 7 operating systems by this fall. The addition of these digital textbooks could be a huge win for parents around the country who home school their children. I can also see the digital textbooks being significantly cheaper for school districts than purchasing hundreds or thousands of copies of traditional print books.
The digital textbook deal covers books and subject areas such as science, English, Spanish, and others. After the year rental period, the book can be re-rented for an additional $9.99 fee. If the textbook isn't rented again after 12 months, it will be locked down and unusable. The more interesting features of the digital books Kno is offering is that there are 3-D molecular models in science books, interactive quizzes, full search functionality, highlighting and notes mode, handwriting recognition, and a lot more. The digital books also have video to help explain subjects. The glossary in the digital books can also be converted into a flash card mode to help students study.
[via PublishersWeekly]