Kno Planning on Releasing a Single-Screen Tablet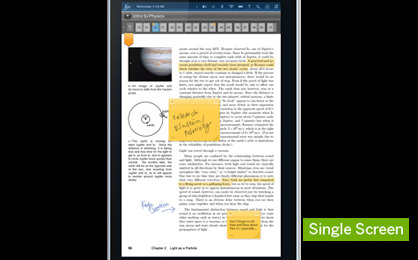 Kno's existence has been an interesting one. Since their rebranding from Kakai to Kno, the Kno dual-screen tablet has been something of interest to a lot of people. Featuring two 14-inch displays, Kno specifically targeted the dual-screen tablet device to the educational market, hoping that students would pick it up instead of a laptop or netbook, as well as other tablet competitors. After being shown off at D8, and then getting confirmation of funding earlier this month with pre-orders set to kick off by the end of the year, news that the company is planning a single-screen tablet, to launch along side the dual-screen version, are interesting.
Kno has always marketed the dual-screen tablet as a great way for students to be able to read their textbooks, as well as take notes at the same time, far easier than whatever methods they utilize now. But, after announcing the new single-screen version, the company admitted that adding the second screen, and subsequently more glass, could put the Kno dual-screen tablet into an expensive price point, which is what they've been trying to avoid from the get-go.
Kno promised at the announcement that the single-screen version would be made available at the same time as the dual-screen model, which the company says will still go up for pre-order by the end of 2010. However, they were unable to talk about prices, for either model, let alone an actual release date. But, if Kno can keep to the sub-$1,000 price point they've been talking about since last June for the original Kno dual-screen tablet, then it's likely that the single-screen model will be significantly less, but still offer up the learning platform that Kno hopes students will adopt with open arms.
[via CNET]