Kingston unveils first 2133MHz RAM for Intel Core i5 platform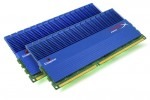 When the Intel Core i7 processors first started to hit the market many enthusiasts were bummed to find out that the platform supported a maximum of 1.65V for the RAM. That meant that users had to get new memory to go along with the new platform. Intel has now made the new Core i5 CPUs official and Kingston has announced new RAM to go along with the platform.Kingston has unveiled its new 2133MHz HyperX Ram kit that supports the Core i5 platform along with the Core i7 platform. The RAM hits its 2133MHz speed at 1.65V and is XMP ready. The 4GB dual channel kit is the first to hit the market for the new platform running 2133MHz reports Kingston.
The Kingston 4GB 2133MHz CL8-8-8-24 kit at 1.65v retails for $394. A cheaper 4GB 2133MHz kit with CL9-9-9-27 latencies is available for $269. Kingston will be shipping an 8GB kit at the 2133MHz speed in September for 64-bit operating systems.