Kingston HyperX Predator PCIe SSD: Ultra-Fast And Now Available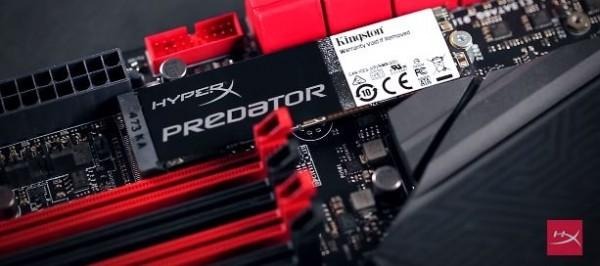 Kingston has announced the launch of its new HyperX Predator PCIe SSD, a drive said to be faster than the other devices in the HyperX product lineup. The drive is being offered in two different capacities, and is faster than the SATA-based SSDs available, using PCIe Gen 2.0 x 4 to give speeds up to 1400MB/s read and 1000MB/s write. Kingston boasts that the Predator is its highest-end HyperX SSD thus far available. We've a video of all it offers after the jump!
The HyperX Predator PCIe SSD is being offered in both 240GB and 480GB capacities; the latter of the two has speeds up to 1400MB/s read and 1000MB/s write, while the 240GB version has max speeds of 1400MB/s read and 600MB/s write. This is joined by a promise that the drives are rugged, a three-year warranty on top of it.
There's a Marvell controller, an optional half-height and half-length adapter, and power consumption of 1.38W when idle (1.99W max read and 8.25W max write). The dimensions measure in at 80mm x 22mm x 3.5mm when using the M.2 — the dimensions change with the HHHL adapter, and depend on whether its a standard or low-profile bracket.
According to Kingston, the drive's life expectancy is 1 million hours MTBF. Rounding out the specs are the storage temperatures (-40C to 85C) and the operating temperatures (0C to 70C), and the weight (10g with the M.2). The maker is also including with the drive a coupon to download drive cloning software.
SOURCE: Kingston