Kingmax Debuts World's Largest Capacity microSD Card With 64GB Of Storage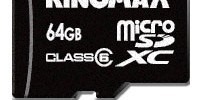 Generally speaking when it comes to storage most of us want more. You can a never have enough storage, especially when it comes to your digital content on cameras and other devices that use SD and microSD cards. One of the cool things about having a massive memory card in your camcorder or other devices is that you can just keep the originals on your card and still have plenty of room to shoot new pics or video.
A company called Kingmax has unveiled a new microSD card that has a whopping 64GB of storage. It's hard to imagine that much storage in such a small amount of space. The 64GB card is also a speed class 6 storage card making it fast for storing and transferring data. The 64GB capacity in a microSD card is a world's first. The memory card also has integrated ECC to detect and reconstruct lost data during transmission.
The card also uses a wear leveling algorithm to allocate information to different sections of the card. The microSD card also complies with the latest SD 3.0 specifications. It has an energy efficient design to extend the battery life of the device it is inside of. There is no word on pricing and availability at this time. As with all high capacity memory cards this 64GB Kingmax microSD card will probably be very expensive when it launches.