Kingdom Hearts 3 to include Toy Story, will launch in 2018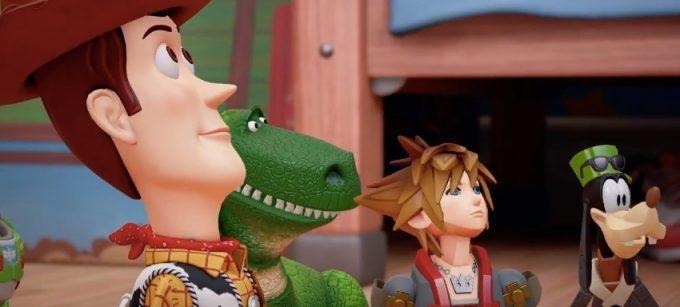 Disney's big D23 expo is being held in California this weekend, and game developer Square Enix was there to drop a big two-part bombshell announcement: The very, very long-awaited Kingdom Hearts 3 will finally be released on PS4 and Xbox One in 2018. The other half of the news, which is possibly even more exciting, is that the world of Pixar's Toy Story will be coming to the massively popular RPG.
A new Toy Story-focused trailer for the game was revealed at the event, featuring series heroes Sora, Goofy, and Donald teaming up with none other than Woody and Buzz Lightyear. This marks the first time the world from a Pixar film has appeared in the Disney/Square crossover series, and fans can rejoice that after nearly 13 years since Kingdom Hearts 2, the sequel is finally being released.
Along with highlighting the game's action-influenced battle system, the trailer shows that Kingdom Hearts 3's graphics are stunningly gorgeous, proving that all those years in development hell — much like Square's other recent hit, Final Fantasy XV — were at least good for something.
The game's director Tetsuya Nomura was also present at the event, and teased that this time around there will be a second playable character in addition to series mainstay Sora. Of course, he made no mention of who it might be, but promised that players will be taking control of someone new. The release window wasn't narrowed down beyond sometime in 2018, but after so many years of delays it's great to hear a proper Kingdom Hearts game is on the way, and not just another spin-off or compilation of previous titles.
VIA PlayStation Blog