Kindle Kids Edition bundles Amazon FreeTime Unlimited and special case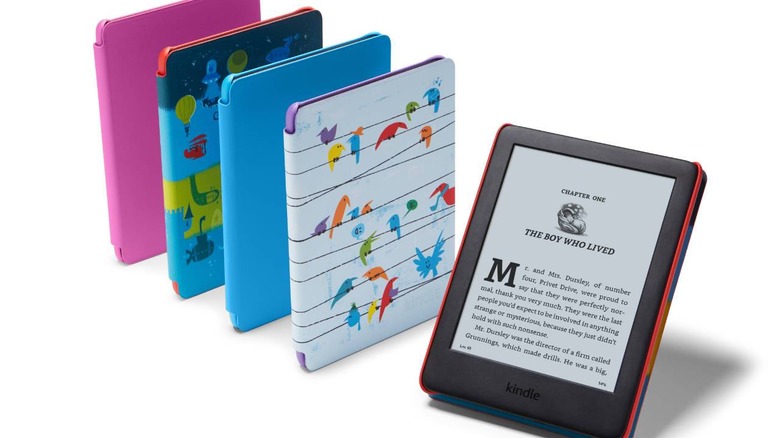 Amazon has introduced its first Kindle ereader designed specifically for kids. Called the Kindle Kids Edition, this model is a book reader that features an e-ink display and ultra-long battery life; it's not to be confused with the company's Kindle Fire tablets, which have already been released with Kids Edition options. Among other things, the new Kindle includes Amazon's FreeTime Unlimited.
Amazon offers Kindle devices that come in two varieties: the regular e-ink Kindle book reader first introduced by the company and the Kindle Fire, an Android-based tablet that was later launched by Amazon. The Kindle Kids Edition falls in the first of those two categories, packing a 6-inch e-ink display with a 167 ppi resolution and adjustable light.
This is the latest e-ink Kindle model, but it comes with a special kid-friendly case, according to Amazon, making it more durable and pairing it with a fun design. As well, this model includes kid-friendly wallpapers and features that'll be useful for young readers, including a dictionary, vocabulary reader, and Word Wise, the latter of which provides definitions for words.
In addition, the Kindle Kids Edition packs 'Easy Discovery,' which is a feature that allows kids to search for content even if they slightly misspelled some words. The Kindle also recommends appropriate books related to what the child searches for, making it easier for them to find similar content and authors who target their age group.
The Kindle Kids Edition is joined by the new Fire HD 10 Kids Edition tablet with a 10.1-inch 1080p FHD display, 32GB of storage, and 12-hour battery life. The Kindle Kids Edition can be preordered for $109.99 USD; the new Fire HD 10 Kids Edition can be preordered for $199.99 USD. Amazon is including one year of FreeTime Unlimited bundled with both devices.