Kindle Fire Sale Hints At Impending Next-Gen Refresh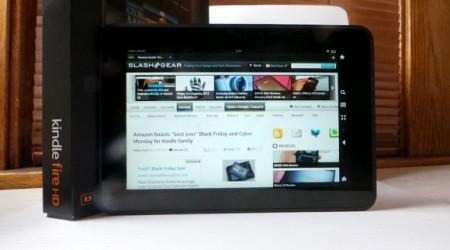 We may receive a commission on purchases made from links.
If you're in the market for a Kindle Fire tablet, today might be the day to pick one up, as Amazon is having an all-day Gold Box Deals sale on a variety of Kindle Fire models. At various times throughout the day, Amazon will be putting a specific Kindle Fire model on sale, with a refurbished Kindle Fire HD 8.9 on sale for the entire day.
You'll be able to pick up the 8.9-inch tablet refurbished for 25% off, which will only cost you $179. As for the Lightning Deals, right now there is a regular Kindle Fire HD tablet on sale for as low as $119 with under two hours remaining on that (or until all units are claimed).
As for future deals, Amazon doesn't tell us exactly what they are, except for that they're Kindle Fires, obviously. Deals for Kindle Fire tablets will last until later into the night, so you'll have plenty of time to pick up a discounted Kindle Fire if you've always been wanting one.
So why the huge sale, though? It could be a hint that Amazon is preparing for the release of next-generation Kindle Fire tablets, which will take over the older-generations when they eventually launch, so it seems Amazon wants to get rid of as much stock as possible before they get the new ones in — a tactic that most retailers do when new products are about to launch.
Recent rumors of next-gen Kindle Fires have pointed at sporting a Qualcomm Snapdragon 800 processor and up to a 2560×1600 resolution for the 8.9-inch model of the Kindle Fire HD, putting it on par with the Retina iPad and Nexus 10.