Killer Notebooks Uchigatana packs desktop power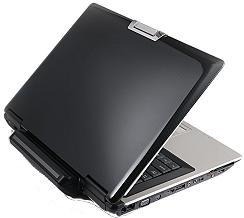 Not like say a Toshiba packs desktop power with comparable speeds, memory capacities and all that. This thing packs desktop power as in there is an LGA 775 socket with a desktop Intel processor inside the case of this laptop.
This isn't the first laptop on the block to give this ago, I have a Gateway that I hate with a passion because it has a desktop processor in it and overheated constantly and kept battery life at a mere half hour, maybe more if I was lucky. Apparently the battery issues with this laptop are pretty much the same, and they even had to beef up the power adapter to make it run, but they seem to have a pretty good solution for the cooling.
Granted their HUGE vent and quad-fan cooling solution probably gets the job done, but also contribute to the likely non-existant battery life. So if that kind of power, and heat, interests you, the base price is $2419.