Kia reveals wild 2016 Optima convertible at SEMA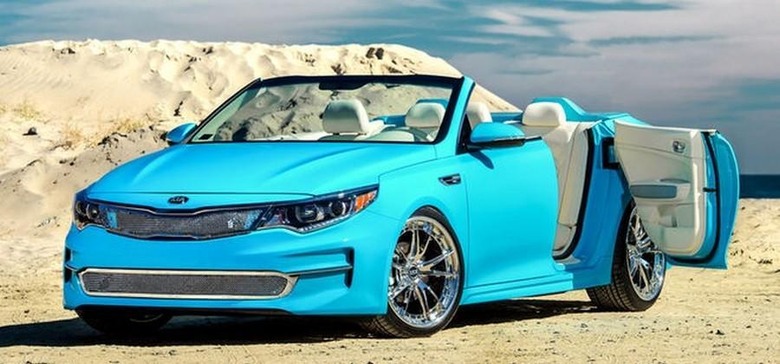 Kia has unveiled a car that it will be showing off at SEMA and it may be a bit too crazy for a lot of SEMA show car fans. The car started life as a normal 2016 Optima and they had its top removed for some open air cruising. Kia says that to make up for the loss of rigidity, the car has extra steel reinforcements to keep the body ridged.
The real issue for many will be the rear hinged door that make the car look like something out of a Fast and Furious copy that went straight to video. According to Kia the suicide doors add a "touch of whimsy and fun."
Further the blinged out nature of the car is a set of 20-inch chrome wheels, Ksport coilovers to lower the car, new leather upholstery, and a performance exhaust. The car makes 245hp front the 2.0L turbo four. The car was covered in blue paint and that custom leather is yellowish.
If the car had a more subdued set of wheels and normal doors, it would look pretty nice. Those two features put the car over the top. Kia has no plans to build a convertible Optima. The official unveil for this car and Kia's other SEMA rides is tomorrow, November 3.
SOURCE: Motortrend