Kia and DC Comics create a Superman car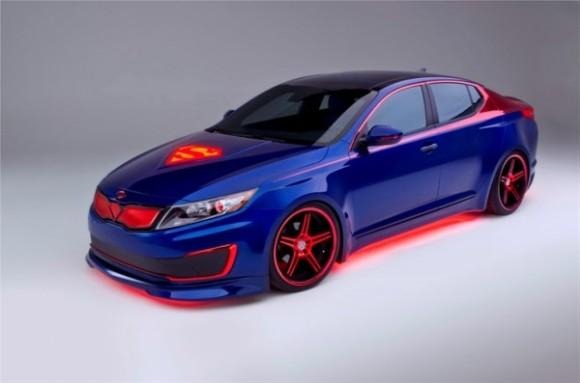 DC Comics and Kia have both joined forces to bring you a crazy, and very detailed new car known as the "Optima Hybrid Superman One". The Optima combined with the Superman details are supposed to emphasize that when you're driving this car, you're also saving the world, at least by reducing your carbon footprint. This car was on display a little over a week ago at The Jace Hall Show.
The Optima Hybrid Superman One features a pretty intricate design. Plastered on the hood of the car is, of course, Superman's logo, and on the back windshield you have a very detailed drawing of Superman himself, probably to emphasize that if you buy this car, Superman will have your back. The car is mainly covered in dark, blue body paint with accents of red and maroon detailing parts of the car's front, rear, and windows. The Superman car also features red LED lights underneath the automobile to make it seem like you're just one, red blur when you're zipping away at night.
The interior of the car is when things start to go a bit downhill. However, if you love light-blue, you're gonna love this. The interior is mostly decked out in light blue, with gray accents all around. The Superman logo is plastered on all of the car seats, as well as your car horn.
Kia and DC didn't collaborate just to make a Superman car. They also created many more cars based on the entire Justice League. They created cars based on Batman, The Flash, and Green Lantern, and out of all of the cars, I think I would say that the Batmobile would be the only one I'd be willing to drive. The others are too gaudy. These cars were made in order to draw in donations for DC Comic's "We The Pledge" charity. All of the proceeds go to the children in the Horn of Africa, who are suffering through both a drought and famine.
[via The Jace Hall Show]