KFC breaks into gaming with a Colonel Sanders dating sim (yes really)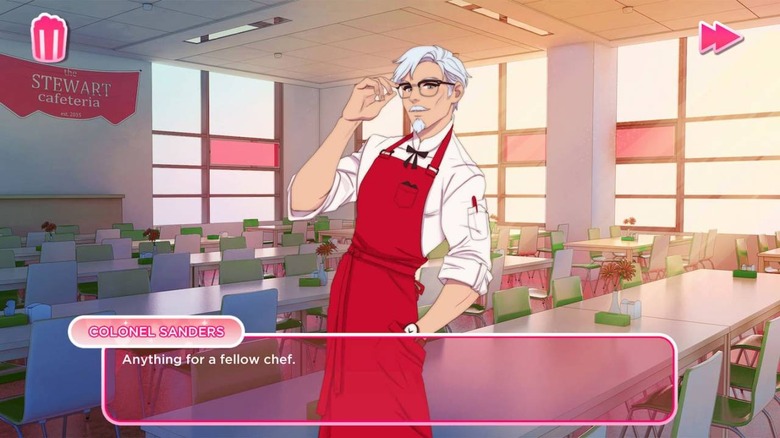 KFC has done a lot of strange things to draw attention to its brand in recent years, but this might be the strangest yet. KFC has revealed that it's breaking into the gaming space by acting as publisher on a dating sim. With KFC at the helm, that means none other than Colonel Sanders will be the object of your affection, though the version of Colonel Sanders that's in this game probably isn't the one you're used to seeing.
Instead of the old man we're used to seeing on KFC's marketing, the Colonel Sanders you'll be romancing in this game is a young culinary school student who strangely still has white hair and a white beard. The full title of the game is I Love You, Colonel Sanders! A Finger Lickin' Good Dating Simulator, which is indeed quite the mouthful.
I Love You, Colonel Sanders already has a Steam listing, with a planned release date of September 24th. The "About This Game" section says you'll play as a culinary student faced with "life-changing decisions that will affect your chances of friendship and love," with other characters including Sanders himself.
"Do you have what it takes to survive culinary school?" the description asks. "Will Colonel Sanders choose you to be his business partner? Or maybe even so much more?" It also says that players will encounter a grand total of "9 lovable characters" and that the game has cooking battles, a secret ending, and of course, 11 herbs and spices.
I Love You, Colonel Sanders is developed by Psyop, which has two other games listed on Steam: Camp W and Kismet. We'll see if a dating sim centered around Colonel Sanders and KFC is any good soon enough, as I Love You, Colonel Sanders will be launching in just a couple of weeks.