Keyboard waffle iron tops Kickstarter goal just in time for Christmas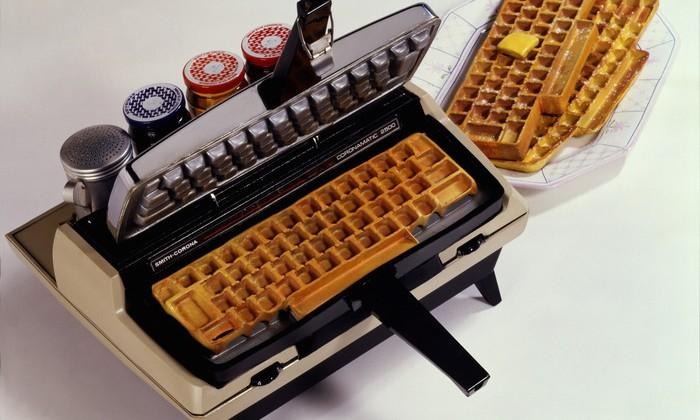 It's surely too late to think about getting this item as a Christmas gift, but the last-minute Kickstarter funding of the keyboard waffle iron is definitely proof that Christmas miracles exist. With funding set at $50,000, the deadline for Chris Dimino's unique breakfast food accessory was Christmas Eve, and the situation didn't look good. However, due to a last-minute push from backers, the keyboard waffle iron was successfully funded as of Christmas morning, having raised over $66,000.
When Christmas Eve was still a few days away, the Kickstarter was over $5,000 short of its goal. In a brief interview with Re/code, Dimino said the funding for his creation climbed to just needing another $1,500, and then in a blink of an eye it topped $50,000. Dimino described it as a great relief, adding "The hundreds of additional people that pledged after reaching the goal were really validating, and encouraging."
As for the waffle iron itself, there isn't a whole lot to differentiate it from similar kitchen appliances, other than its unique design. The Kickstarter listing describes it as "easily the most significant union of technology, design, and waffles in the modern age." Made of die-cast aluminum and featuring heat-resistant handles, the keyboard waffle iron appears to be as easy to use as one can expect. All that's needed to enjoy a keyboard-shaped breakfast is to pre-heat the iron and apply some non-stick cooking spray, pour in waffle batter, let it bake for 2-3 minutes followed by flipping and baking another 1-2 minutes, then they're ready to eat!
Backers looking to score a keyboard waffle iron needed to pledge at least $60, while higher increments included bonuses like recipe books, a tote bag, special waffle topping spreads, and even limited edition colors for their iron. Shipping is currently scheduled to start in April 2015, and Dimino says he hopes to start selling the waffle iron through online catalogs or his personal website.
VIA Re/code
SOURCE Kickstarter