Kensington offers up new iPhone 4 compatible accessories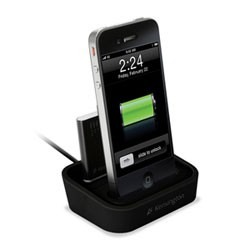 Kensington has all manner of gadgets and accessories for the Apple iPhone and iPod models, the company has added several new products to its accessory line that are all compatible with the iPhone 4. The gadgets are to mount the iPhone in your car and to keep it juiced up at home and while on the go.
The pictured accessory here is the Charging Dock with Mini Battery Pack. The device sells for right under $70 and is a small square dock that charges the iPhone and charges a separate Mini Battery pack at the same time. The mini battery pack is made to carry with you on the road for extra juice when needed. A plain Charge and Sync dock is also offered for $29.99.
A nightstand charging Dock is also available for $39.99 that stands the iPhone on its edge like and alarm clock for charging at night. In the car, a couple new mounts are available. The SoundWave Sound Amplifying Car mount sells for $39.99 and suction cups to the windshield to hold your device and amplifies the sound from your device. A version of the mount minus the amplifying tech is also available for $29.99. The new gear is all up for pre-order right now.