Kensington LiquidFM Transmitter and Contour Active Cases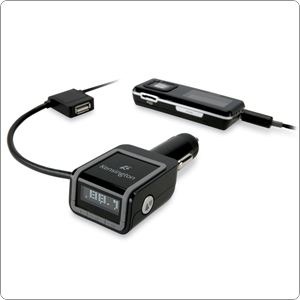 The first, the LiquidFM transmitter is designed to work with mp3 players, specifically the iPod. It has the standard headphone jack connector, but there is also an in-line USB port for charging while you listen to your tunes.
The LiquidFM transmitter also utilizes Kensington's ClearFM technology so it can output high quality sound even over the FM radio. It also has QuickSeek and RDS which helps decrease the time it takes to find a clear station and the RDS tech displays track info on compatible head units.

The second product is the company's Contour Active Cases for notebooks. The contour panel helps with the ergonomics of the case, making it easier to carry. The notebook case doesn't have pricing available, but the LiquidFM did. The LiquidFM for iPod and LiquidFM Plus for MP3 Players are the different models, they are priced at $80 and $70 respectively, the iPod version loses the headphone jack and USB port in favor of the Dock Connector.
Kensington FM transmitters, notebook cases [via electronista]