Kensington Dock is the Surface Studio mini you've always wanted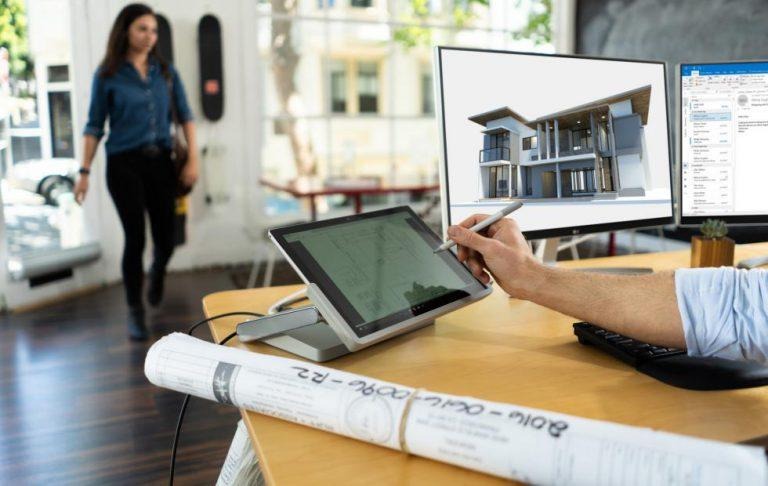 While the Surface Pro 2-in-1 tablets were a surprise hit, they weren't exactly a revolutionary device at a time when 2-in-1 tablets were becoming more common. Few, however, expected Microsoft to come up with the Surface Studio. It was a creative's dream come true, if not for the obscenely high price tag and, to some extent, the huge size as well. What if you already have a recent Surface Pro and was fine with that size but wanted the flexibility and stability of a Surface Studio. Thankfully, accessory maker Kensington now has an answer for that: the SD7000 Dual 4K Surface Pro Docking Station.
The odd and somewhat boring name belies the ingenuity behind the product. Yes, it's practically a docking station like many other docking stations, expanding the Surface Pro's measly number of ports into a party. You've got an Ethernet port, USB-C port, four USB 3.0 ports, a mic and headphone, an HDMI port, and Display port. Those last two, thanks to utilizing Microsoft's proprietary Surface Connect, lets you connect two 4K displays.
Its real appeal, however, is in its design. An articulating hinge lets you position the Surface Pro in whatever height or angle that's comfortable to you. Prop it up like an AIO PC in disguise or bring it low and use it as a digital canvas. No more worrying about that hinge that might not be enough to provide the stability you need.
You don't have to worry about the price either. The Surface Pro is expensive enough as it is, so you don't need an accessory that costs just as much. Thankfully, the
Kensington SD7000 Dual 4K Surface Pro Docking Station
only goes for $299. When it will start making Surface Pro owners' dreams come true, the company isn't saying yet. That said, if you don't know a Surface Pro 4 or 2017 Surface Pro then you're out of luck.