Ken Block's 1965 Mustang packs AWD and 845hp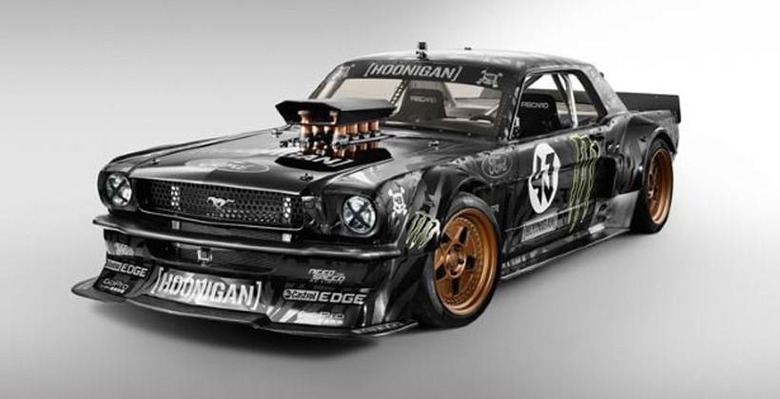 Ken Block is set to unveil one of the wildest classic Mustangs ever built at SEMA. The car is Block's 1965 Ford Mustang and about the only thing it has in common with your typical classic Mustang is the shape of the body, and even that is thoroughly tweaked. The Stang has all-wheel drive, which is something no Mustang has ever rolled out of the factory featuring. Block plans to drive the tires off the car in Gymkhana 7.
The car was built by ASD motorsports in Charlotte, NC and it took two years to put together. The base car was a 1965 Mustang of the standard notchback variety. Power for the heavily modified Mustang comes from a 410ci Roush Yates V8 engine.
That massive engine displaces 6.7-liters and produces 845 bhp and 720 lb-ft of torque. The power goes to the ground via a six-speed transmission and Sadev AWD system. The car also has a custom ASD Motorsport suspension, full tubular chassis, roll cage, door bars, and three-piece 18i wheels.
Those custom wheels are shod in Pirelli Trofeo R tires in a special Ken Block compound. Block says that this is the best Gymkhana car that he has had yet, and that is saying something since the other cars he has used were awesome on their own.
SOURCE: Top Gear