Kangaroo Mobile Desktop Pro adds dock, keeps pocket-friendly size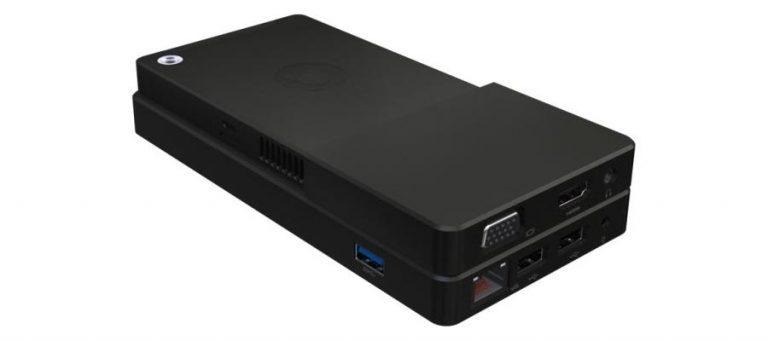 InFocus, maker of the pocket-sized and budget-friendly Kangaroo desktop PCs, is back with a new Kangaroo Mobile Desktop Pro model, another highly portable model that, in this case, offers support for the new Dock Pro with an array of connectivity options. The computer runs Windows 10 and can be used with any supported display (VGA, HDMI) to serve as an on-the-go computer, home server, school computer, or any number of things.
Kangaroo is, of course, most notable for its size — it's about the size of a smartphone, and with the new Dock Pro it'll offer a bunch of connectivity options: HDMI, VGA, Ethernet, two USB 2.0 ports, one USB 3.0 port, audio port, and a 2.5-inch hard drive bay. With it, obviously, Kangaroo's usefulness increases for those interested in using it as a work or school computer rather than a simple way to watch movies on a television.
The VGA connector is among the new features, expanding the number of displays Kangaroo is compatible with. As well, the hard drive bay and Ethernet port means faster Internet access and the ability to carry around and access a lot more files. One of the more interesting features is Kangaroo's integrated battery, which is enough to keep it running for a little while without having to find an outlet.
Other features include an integrated fingerprint reader that helps round out the new Pro model. As well, Kangaroo works with an OSLinux app that allows iOS users to "fully interact" with their Kangaroo devices from their iPhone or iPad. The app costs $4.99 USD. Says InFocus, the company has worked with Seagate to ensure the desktop PC works with the latter company's new 1TB and 2TB 7mm hard drives.
Kangaroo Mobile Desktop Pro is available now through Amazon, NewEgg, and InFocus's online store for $199.99 USD. Later on this month, the PC will also be available through the Microsoft Store and some other retailers.