Kanex unveils C247DL Dual-link DVI to Apple Mini DisplayPort adapter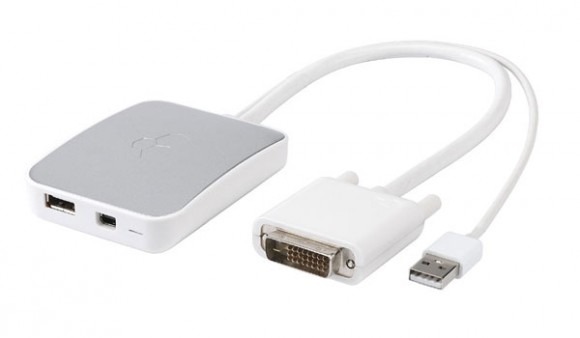 Kanex has unveiled a new converter that will help the Mac users out there connect an existing Mac computer to the new and cool Apple LED Cinema display that only has a Mini DisplayPort. The adapter converts the video signal from DVI to the Apple display and supports resolution up to 2560 x 1600 meaning it supports 27-inch and 30-inch screens.
The adapter also has USB pass-through to allow the integrated Cinema display iSight camera to work. That USB cable also powers the adapter so no external power adapter is needed. The USB cable also handles the transmission of audio as well. The adapter works with the 2008 MacBook Pro and 2005–mid and 2007 Mac Mini along with other Macs using a DVI output.
The adapter supports 2-channel stereo audio and is HDCP compliant. That last bit means you can shoot Blu-ray video through the device and it will work. The adapter will automatically match the output to the resolution supported by the display. The adapter can also be used on Non-Mac computers that want to connect to the new Apple display. The adapter is available now for $149.99.