Kabel Deutschland sets world record with 4.7 Gbps downloads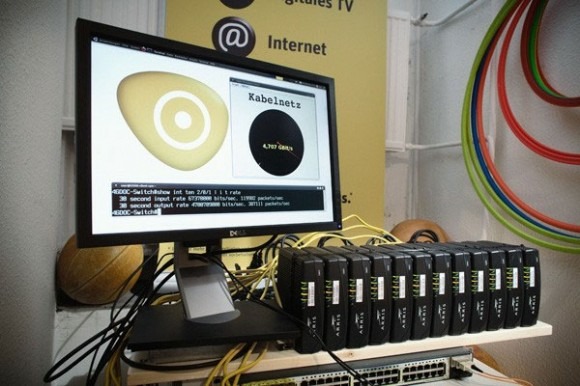 I think I have the worst broadband Internet connection on the planet. If it can muster 512 Kbps on a good day, I'm lucky. German subscribers to Kabel Deutschland could soon have access to a new Internet connection that makes me green with envy. Kabel Deutschland has shown off a network with download speeds of up to 4.7 Gbps.
If you're wondering, that download speed is a world record and was set in the city of Schwerin. The download speed is so fast that normal computers can't even handle the data transfer rates. KD used EuroDOCSIS spec on 8 MHz channel to achieve the world record-setting download rates. In the US, we use 6 MHz DOCSIS, so we may not see the sort of performance.
To compare, Verizon offers download speeds of 300 Mbps on its FiOS service. If you break that 4.7 Gbps down to Mbps, KD is offering 4700 Mbps. Quite a speed difference there isn't it. My local company would have to double my speed to get a measly 1 Mbps.
[via Engadget]