JVC unveils cool EX-S1 wooden cone iPod dock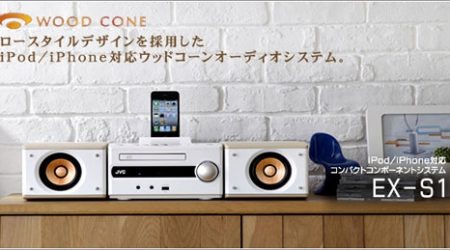 There are tons of iPod docks on the market today and many of them are the same thing. JVC has unveiled a cool new dock that is different from most of what is on the market today. One of the unique features of the EX-S1 is that the speakers use wooden cones.
The compact system has a pair of speakers that are separate from the main unit, which also has a CD player inside. On the front of the dock is a USB port for playing tracks from non-dockable iPods and other devices.
JVC offers the dock in several colors including black, white with wood grain top, pink, and solid white. The dock also has an integrated FM tuner and has video output for sending video to your TV. Pricing is unknown, but the unit will ship in Japan in October.