JVC intros compact shoulder ProHD GY-HM100 Camcorder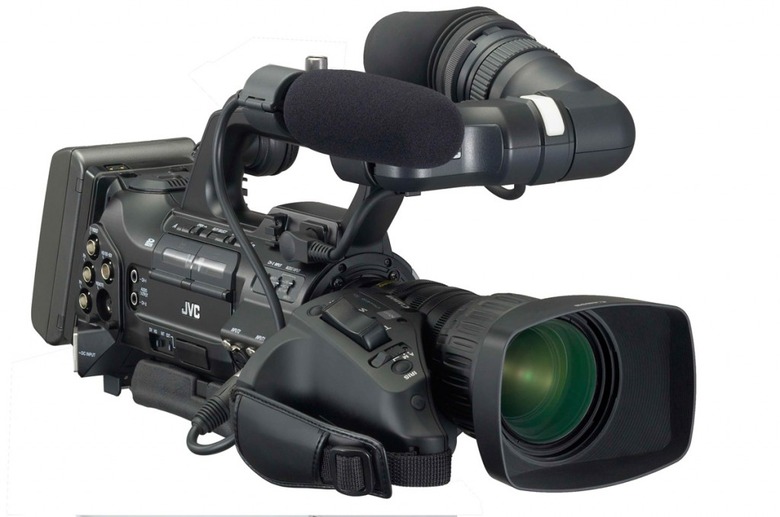 JVC has today formally introduced its newest ProHD camcorder, a compact shoulder professional series GY-HM700, designed for mainstream production to provide fastest shoot-to-edit workflow with low-cost solid-state media storage made ready.
The JVC GY-HM700 features 3-HD CCD image sensor, Canon-branded KT14x4.4KRSJ HD zoom lens with 35mm equiv. of 32-448mm focus distances and has a 4:3 LCD display with 800x480 pixel resolution, as well as a 0.45-inch LCOS optical viewfinder with 410,000 pixels.
The GY-HM700 records 35Mbps HD movies and uncompressed audio natively in Quicktime (.MOV) format, stores data directly to its dual SDHC storage cards. It reads storage capacity in real time, auto-switches to the next available slot when one card fills up. The low cost and low power solid state memories provide up to 64GB (32GBx2) of storage space, or up to 6 hours of continue HD recordings. Furthermore, the adoption of QuickTime format allows Final Cut Pro editors to work directly the recordings without the need of transcoding or optionally, opt for mp4 format recording with an optional SxS media recorder. Additionally, the camera can record alternate 720P with 19 or 35 Mbps or 1080i with 25Mbps in SP mode.
For connectivity, the JVC provides HD/SD SDI, Component, Composite and simultaneous DV/HDV IEEE-1394 outputs and a pair of balanced XLR audio inputs which records uncompressed LPCM 16 bit audio at 48Khz.
The JVC GY-HM700 is available from Match 2009 with a suggested retail of $7,995