JVC DLA-RS4000 Projector Handles 4K Resolution and 110 Pounds of Technology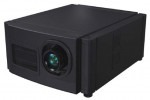 CEDIA is still going strong, and with announcements like this one from JVC, we can see why. The DLA-RS4000 is a projector with some hefty specifications, which includes the heavy lifting necessary to move this thing around. Especially compared to JVC's earlier offerings, this new projector is a beast. And believe us when we say, the price tag reflects that statement.
JVC's DLA-RS4000 is a home cinema projector, and it's capable of an astonishing 4K resolution, and reproducing a 10-megapixel image. That resolution is four times that of 1080p high definition, at 4,096x2,400 pixels. The DLA-RS4000 is both ISF and THX certified, and boasts 3,500 lumens of brightness from the Xenon lamp embedded within. The lamp itself can be controlled with up to 8 levels of lamp control, making sure that the brightness is kept at an optimal level.
On top of that, the projector deliver's a staggering 10,000:1 native contrast ratio, which is made possible by advancements in LCD technology and Wire Grid polarizers. Within the 110lb box, a RSVP4 custom digital video processing unit will switch signals, scale and process source feeds from peripherals like gaming consoles, Blu-Ray players, cable and satellite receivers, and even DVD players (if you still have one of those). JVC plans on shipping the projector with a high quality projection zoom lens. Connectivity is supplied by an Ethernet port, as well as network ports for controlling the projector remotely from a PC or network that is connected to the projector. But here's the kicker: $175,000 to pick this thing up, which is going to start being shipped in October.