JVC adds two new weather-proof camcorders, improves battery life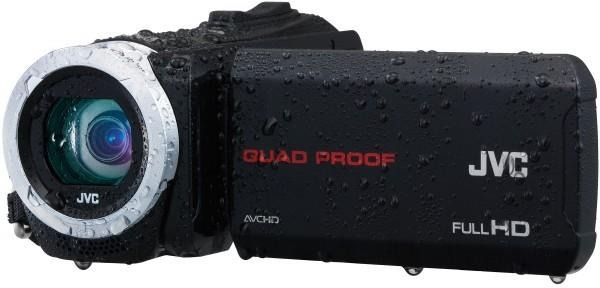 As far as smartphone cameras have come, to get real, professional quality video, it's best to turn to the real thing. If you're going to be out in the elements, your video camera best be suited to brave the weather, otherwise your camera could end up becoming a fancy paperweight. The latest camcorders to join the weather-proof JVC Everio collection are the GZ-R450 and the GZ-R320. Both are waterproof up to 16.4 feet under water and withstand damage from freezing at temperatures as low as 14 degrees farenheit. The camcorders are also dust-proof and are designed to withstand being dropped from almost five feet off the ground.
To keep the camcorder components safe from the elements, the battery is located internally. Instead of changing the battery in inclement weather, when you're drawing near to the end of its typical five-hour battery life, you can simply use a third-party portable battery charger to power up the battery. The new JVC Everio designs are made to run off of the same kind of portable batteries used to charge a smartphone.
Because a durable camcorder is still only as good as the pictures it takes, JVC didn't skimp on the specs. Both new additions feature a 40x optical zoom that can push to a 60x dynamic zoom. These HD recorders use a 2.5M back-lit CMOS sensor and use the same Falconbrid image processor that can be found in JVC's high-end 4K video cameras. Both models also take 10MP still photos and operate using a 3-inch full screen touch panel.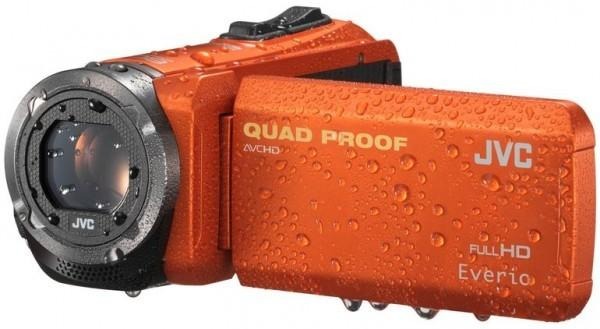 The GZ-R450 is the higher-end of the two models, featuring built-in Auto Ilumi Light and a generous 32GB of internal memory.
Just in time for rugged, summer road trips, they will be released towards the end of July. The GZ-R450 is available in black and will retail for $499.95, and the GZ-R320 will run $399.95 and is available in black or orange.