Just 900 Dark Knight Lumia 900s confirms exclusive retailer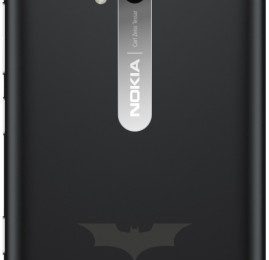 If the limited edition Dark Knight Rises Nokia Lumia 900 took your interest yesterday, Phones4u has all the information you need in order to get your hands on one of the handsets. The retailer has spilled the beans regarding the exact number of phones that will be sold: 900. The phones will be available to pre-order starting from today, and will be sold in stores and sent out to customers from June 1st.
Here's a nice little bonus: even if you don't want the Batman edition of the Lumia 900, the regular edition will come with a free pair of cinema tickets for The Dark Knight Rises when the film opens on July 20th. Not only that, but customers will be entered into a competition that would see them potentially scoring VIP tickets to the movie premiere in London.
The phone, meanwhile, will come with an exclusive Dark Knight Rises app, offering additional content such as wallpapers and ringtones, plus a "Claim Gotham City" challenge that sees you checking in at designated Foursquare locations to score points and unlock additional goodies.
Phones4u will be offering the limited edition of the phone for free on £31 a month contracts, or you can pick it up SIM free for £599.95. The phone will be available online and in stores, although with only 900 available, you'll have to be quick.