Jurassic World Evolution release date revealed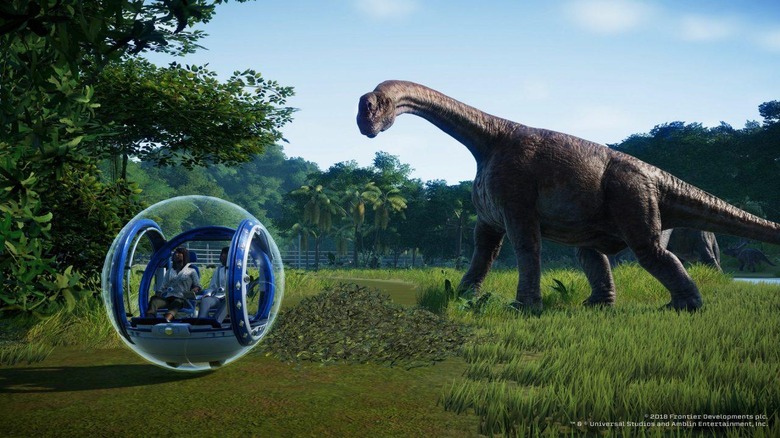 If you're anything like me, then you loved dinosaurs growing up and the original Jurassic Park may as well be the best movie ever made. There have been quite a few attempts at Jurassic Park video games over the years – some of them successful, others not so much. Unquestionably one of the most ambitions of the bunch is Frontier's incoming Jurassic World Evolution, which tasks you with creating a Jurassic Park of your own and managing the various disasters that are certain to come along with it.
We've know about Jurassic World Evolution being in development since last year, but today, the game is finally getting a release date. Frontier announced today that the game will be here on June 12 – if you're willing to buy it digitally, that is. On that date, it'll be available through Steam, PSN, and Xbox Live, but you'll need to wait until July 3 if you want to pick up a physical copy.
Frontier also delivered a new trailer and a new batch of screenshots, which you can see below. The trailer doesn't show off too terribly much, but it does show us some in-game footage of constructing buildings and morphing the environment. It's almost serene, until the dinosaurs start to get agitated at least.
Like any Jurassic Park game worth its salt, you'll also have to contend with plenty of disasters as you play through Jurassic World Evolution. As you'd expect, dinosaurs will try to break out of their pens, and when they do, you'll need to mount a quick response to keep your visitors safe. Natural disasters will also be a threat, and it seems like they could lead to a bigger problem if they damage systems meant to keep your dinosaurs safely behind their electric fences.
While most movie tie-ins aren't really worth writing home about, Frontier is the same company that made the excellent Planet Coaster, so there are high hopes that it can deliver a solid Jurassic World game here. If you've already decided that you're not going to wait for reviews, you can pre-order the game beginning today on Steam, PSN, and Xbox Live – doing so will grant platform exclusive helicopter and off-road vehicle skins.