Jurassic World: Camp Cretaceous Is Netflix's Next Big Show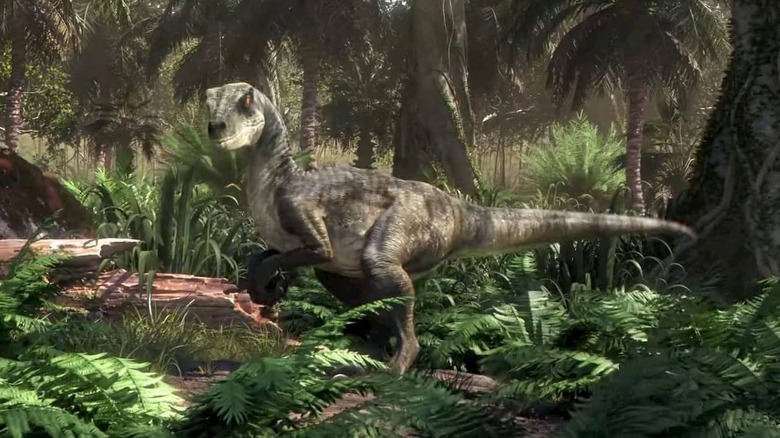 Netflix announced today that it's teamed up with DreamWorks Animation to produce a new animated series based on the first Jurassic World movie. The show is called Jurassic World: Camp Cretaceous and is set to debut at some point in 2020. The show is actually set during the same timeline as 2015's Jurassic World, but it's going to tell a very different story from the movie.
In its announcement today, Netflix says that the show follows six teenagers who visit an adventure camp that's set up on the other end of Isla Nublar, opposite the Jurassic World theme park. When the Indominus Rex breaks free from its enclosure and sparks a chain of events that threaten the park visitors, those six teenagers wind up stranded on the island.
"Unable to reach the outside world, they'll need to go from strangers to friends to family if they're going to survive," Netflix's announcement says. Netflix also published a teaser today, which you can see embedded above, though it doesn't show us much – just a shot of a velociraptor walking through the jungle with the phrase "The evolution has begun" interspersed throughout.
As far as creative ideas relating to the Jurassic Park franchise are concerned, this one doesn't seem too bad. The idea that there could be visitors still stranded on the island after Jurassic World was evacuated is certainly an intriguing one, so hopefully Camp Cretaceous can manage to do justice to that clever angle.
As you might imagine, details are pretty slim at this point. Netflix has revealed that Scott Kreamer and Lane Lueras will serve as showrunners and executive producers on Camp Cretaceous, with Steven Spielberg, Frank Marshall, and Colin Trevorrow named as executive producers as well. Zack Stentz, who helped write the screenplays for Thor and X-Men: First Class, will serve as a consulting producer on the show. That's all Netflix is revealing for now, so we'll keep an ear to the ground for more.