JoyPot C210 Seems like a HomeRun for Novomax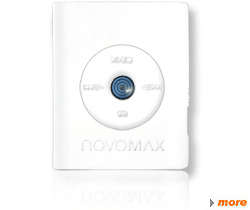 Novomax's JoyPot C210 is a light MP3 Player that was made for your mobile life. Using a SD/MMC/Mini SD card, this device can use the memory cards from cameras and phones with no problems. Having a USB 2.0 interface helps this tiny device sell, as speed of data transfer is important to many people who are on the go.
Weighing in at 25 grams with no battery means that this MP3 player is so light, you may forget you are carrying it! With a single AAA battery, you can get up to 10 hours of continuous music playback. This can be a problem for those of you who want to recharge your player, and never buy batteries. The other main problem I found was that there was no support listed for operating systems, other than Windows.
All together, if you want a small MP3 player that is small and sleek to go along with all the SD/MMC/Mini SD cards you already may own, this could be what you have been looking for.
JP C210 [Via: NOVOMAX]