John McAfee Is Making An Unhackable Phone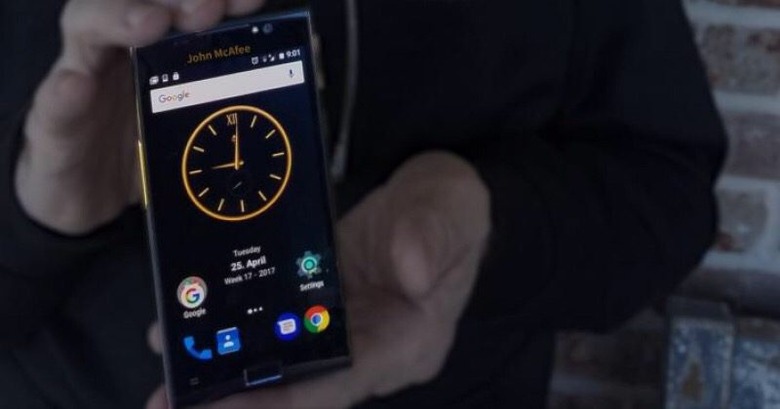 Those who know John McAfee before his brush with the long arm of the law will remember him for his eponymous security suite. Back then, McAfee competed with the likes of Norton for supremacy in the anti-virus market. These days, however, McAfee has involved himself in more than just software security. In fact, his latest endeavor is less about software. It is, however, still focused on security. The man whose name has become synonymous with that industry has just revealed his plans to introduce the world to the most secure and most private smartphone. One that uses hardware switches instead of software to implement that security.
It's almost ironic, given how McAfee built his name, not to mention his career, on software security. And yet, he has been quoted as saying that software has everything to do with insecurity. To some extent, there is truth to that. Otherwise, why work so hard to secure software, let alone make a business out of it, if software is already secure.
McAfee's phone, which he touts to be the world's first truly private phone, instead relies of hardware and physical switches. The back cover, which in recent phones have been mostly devoid of any marking save for a camera, is filled with switches. There's one for turning off the battery, turning off the Wi-Fi antenna, turning off GPS, and even turning off the camera. In short, everything that can be used to track you or hack into your phone.
McAfee's claims are rather bold. No Stingray or catcher device will be able to connect to the phone. And it's not a boast we haven't heard before. McAfee's still unnamed phone is hardly the first phone to claim ultimate security. The most recent is Silent Circle's Blackphone 2, which can perhaps be considered the most successful. Given that, in the general market, it has a negligible presence, that's not really saying much.
But McAfee is confident that there is a growing market of customers hungry for such a hack-proof phone. Those range from enterprises eager to protect their businesses to individuals anxious about government or criminal spying. Customers that McAfee expects to be more than willing to pay the $1,100 price tag attached to this still unreleased phone.
SOURCE: Newsweek