Joby GripTight Pro Tablet holder does landscape and portrait modes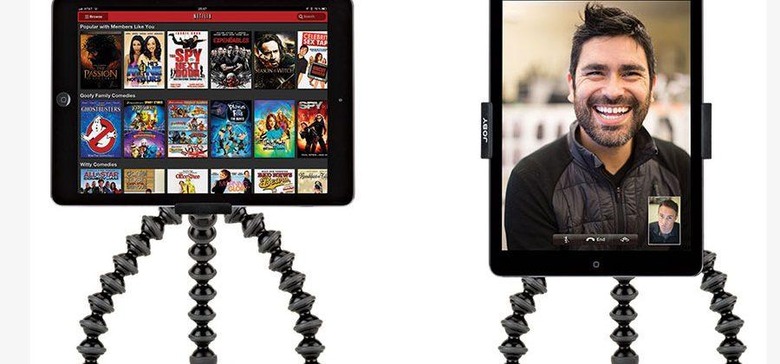 Joby is well known for making interesting and flexible mounts for everything from digital cameras to tablets and smartphones. These mounts are known for having three legs that are very flexible allowing the user to wrap the legs around things to attach their tablet or other device to just about anything. Last year Joby unveiled the GripTight Mount for Smaller Tablets but that mount used a design that didn't allow tablets to be held easily in landscape mode. This is where the GripTight Pro Tablet mount comes in.
With that older grip, the only way to use the tablet in landscape mode was to hang the grip and tablet from something else. The new GripTight Pro Tablet mount supports landscape and portrait modes without having to hang the grip off another object. The new mount is made to securely hold tablets using over-molded stainless steel plates that slide and lock securely in portrait or landscape modes.
The design will work with tablets of different sizes including the Kindle Fire and iPad Air. The mount is designed to allow changing from tablet to portrait modes without having to remove the tablet from the mount. The flexible legs are used in the new mount that allow users to do things like hang their tablet from a seat back in the car for hands free watching.
GripTight Pro Tablet mounts support tablets with screen sizes running from 7-10 inches. The mount itself can be purchased without the GorillaPod if you already own the GorillaPod. The mount alone sells for $30. The mount and GorillaPod complete kit sells for $69.95. The new mount is in stock and shipping now. Joby notes that shipping is free.
SOURCE: Joby