JLab B-Flex X-Bass laptop speaker adds some boom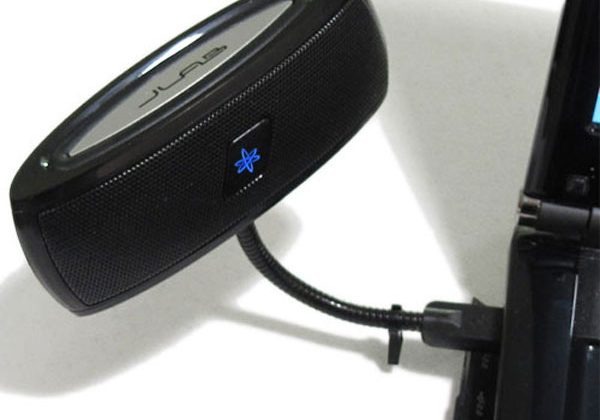 My single biggest pet peeve of laptop and integrated sound on computers in general is the lack of bass. Often, the sound is so low even at full blast you can forget watching a movie or listening from across the room. That leads many people to look for quality external speakers. JLab has a new speaker that looks interesting for your notebook or AIO. The speaker is the B-Flex X-Bass, and it plugs in using a USB port.
The speaker is compact, and one of the more interesting things is that rather than using the typical floppy USB cable, this thing has an arm that is rigid and flexible. That means you can plug it and then adjust it to the angle you want. Inside the single enclosure is a pair of speakers for stereo sound.
The speaker has good bass apparently, and overall sound is nice. This looks like a nice alternative to a pair of speakers sitting on the desk if you have a USB hub on your desk. If you want to get some bass in your games and movies this might be the ticket. The caveat is that the speakers apparently lack in the mid-range focusing instead on highs and lows.
[via EverythingUSB]