Jide reveals the Remix Pro 2-in-1 tablet, more Remix devices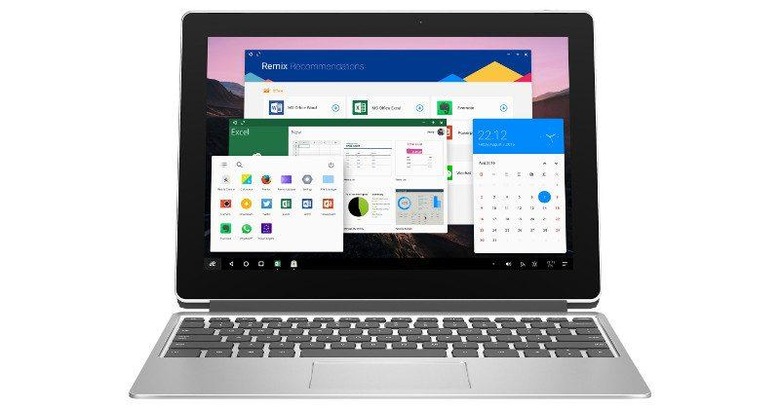 Android is an operating system that, almost like its Linux ancestor, can be found almost anywhere and any device. That doesn't mean, however, that it offers the best experience outside of smartphones and tablets. Take for example laptops and desktops, where Android normally just looks like an overgrown tablet. Jide's Remix OS addresses that space, providing a desktop-like Android experience for maximum productivity. And today it has announced the next batch of Remix OS powered devices, including a much-awaited next gen Remix Pro 2-in-1 Android tablet.
It has been a little over a year since Jide unveiled the first Remix Ultratablet on Kickstarter. Appearance-wise, it wasn't exactly that different from the growing number of Microsoft Surface look-alikes cropping up in some corners of the market. Spec-wise, the Remix Ultratablet wasn't completely breath-taking either, sporting late 2014 mid-range specs in early 2015. What set the device apart, however, was Remix OS, which literally remixed Android into a desktop OS interface, complete with multiple, movable, and resizable windows, multi-tasking, and more. After an equally successful crowdfunding round with Remix Mini PC, Jide is trying again, directly to retail, with a new Remix Pro tablet, using that same formula, but bumping up the hardware as well.

The Remix Pro takes more after the iPad Pro than the Surface when it comes to how it converts from tablet to laptop, with the cover rolling up into a makeshift stand for the tablet. The laptop and the keyboard are connected via pogo pins. Pretty much like Apple's Smart Keyboard and Smart Connector. Design-wise, however, the Remix Pro is its own beast and doesn't exactly look like other tablets in the market. When it comes to hardware, Jide definitely raised the bar a bit higher, but still not too much. The Remix Pro stands in the higher mid-range spectrum, running on a 64-bit Qualcomm Snapdragon 652 with 3 GB of RAM. There's only 32 GB of internal storage, sadly, but supports microSD cards up to 256 GB. The battery is a large 9,000 mAh and supports Qualcomm's Quick Charge tech. Quite notable is the 12-inch screen, larger than the Remix Ultratablet but also more pixel dense, at 2160x1440. For reference, that's the same size and resolution as the Surface Pro 3.
On the software side, the Remix Pro is set to be the first device to run the upcoming Remix OS version 3, which brings the custom Android ROM to Android 6.0 Marshmallow, along with other improvements and fixes. It might be the first, but it definitely won't be the only one, as Jide has more Remix OS devices in the works.
There is also an upcoming successor to the Remix Mini, though it is, for now, simply called the Remix OS PC box. Like its predecessor, it will be an ARM mini PC, but running a 1.5 GHz octa-core 64-bit Rockchip 3368 processor instead of an Allwinner, with the same choices of 1 or 2 GB of RAM and 8 or 16 GB of storage. It, too, will run Remix OS 3 when it comes out. However, this box won't be sold by Jide directly to consumers but as sort of whitebox products for OEMs to rebrand and sell themselves.
While the Remix OS PC box won't directly be available to buyers, we mustn't forget that other Remix OS computer that will actually be sold to the public. First revealed last month, the 24-inch AOC All-in-One Remix OS PC, now formally named the AOC Mars All-in-One PC, is joined by 22 an 32 inch models. All of those share the exact same specs, including an Amlogic ARM CPU, 2 GB of RAM, 16 or 64 GB of storage, and a Full HD resolution.
ARM isn't even the only target now. Continuing its commitment to x86 machines as well, Jide is also announcing Intel-powered computers that will be running Remix OS as well. At the top of that list is a new Acer Aspire ES1-131 concept laptop that will be running the Android OS. This laptop is powered by an Intel Celeron N3150 and has 4 GB of RAM and 500 GB of internal storage. Heading the development of this concept project is a new member of Jide's family, Chih-Wei Huang, who is perhaps best known for starting the Android-x86 open source project, which shares Jide's vision of putting Android on more traditional desktop computers, particularly those running on Intel's or AMD's processors.
The Remix Pro 2-in-1 Android tablet doesn't have a set launch date yet, but it will first be sold in China before making its way to international markets. There are also no announced dates yet for the other devices. Suffice it to say, Android fans interested in a different and more productive experience might want to keep tabs on these.