Jet Capsule boat has underwater cameras and a toilet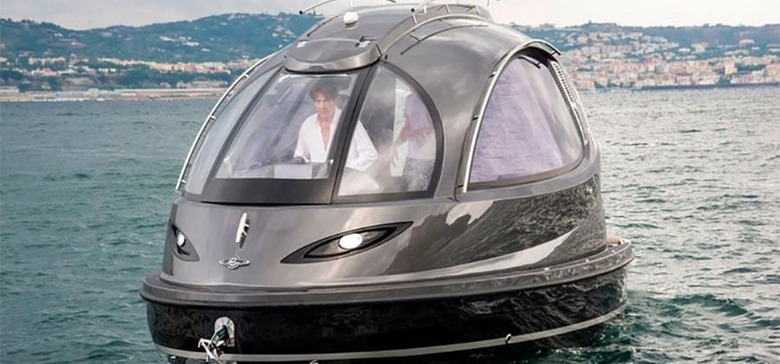 Wealthy boaters looking for a cool pleasure craft or water taxi that will keep them comfortably out of the elements might want to check out the $150,000 Jet Capsule. The boat was unveiled back in 2013 as a prototype and will launch to the public next year. The production version keeps the somewhat strange pod-like proportions of the prototype.
Inside the little boat has nice features with tablets and plenty of seating. The body of the boat is carbon and it has photochromic windows. On the roof is a sun deck and the driver has some nice controls at their fingertips.
The controls include heating and AC, underwater cameras, and a toilet. I can't quite figure out where that toilet is and how passengers would use it privately. The boat is 24.9-feet long, 11.5-feet wide, and 7.5-feet tall. The width is a key feature for the boat making it twice as wide as most its length.
Engine options range from 370hp up to 600hp with a speed range of up to 44mph on water, which is quick. The Jet Capsule will hold 12 passengers and one pilot with a cruising speed of 37mph or 32 knots. It appears that the Jet Capsule is built to order and takes five months to build.
SOURCE: Gizmag