JBL releases OnBeat Air speaker dock with AirPlay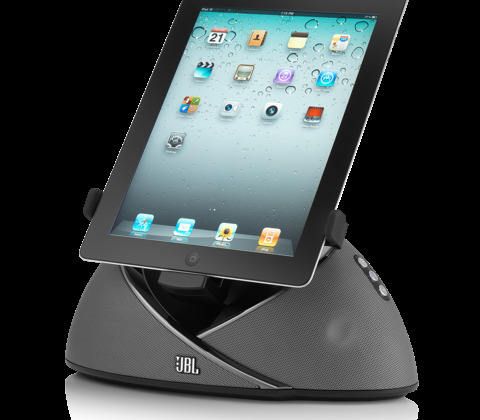 JBL today released the OnBeat Air, a new addition to its family of versatile iOS-compatible speaker docks that works with your iPhone, iPad, or iPod touch. Earlier this year, the company released the OnBeat with support for the iPad 2 and now they've added Apple's AirPlay technology to the mix for wireless music streaming.
The JBL OnBeat Air speaker dock features adaptable docking clamps that can securely hold your iPhone, iPad, or iPod touch in both landscape and portrait orientations. The devices can connect to the dock either wirelessly through AirPlay or via a 30-pin dock connector.
With AirPLay, you'll be able to stream music from your iTunes collection to the OnBeat Air no matter where it is in your home. The speaker dock includes an IR remote control that lets you conveniently navigate your iTunes songs and videos from a distance, while its tabletop design makes it convenient for gaming, watching movies, or video chatting through Apple's FaceTime or Skype.
The OnBeat Air also features quality sound with dual Phoenix full-range transducers and it supports Android smartphones, tablets, and wireless MP3 players by connecting either wirelessly or through a built-in auxiliary input jack. The dock is priced at $249.95 and is available now.
[via JBL]