Jaguar XE SV Project 8 Touring spec is slightly less bonkers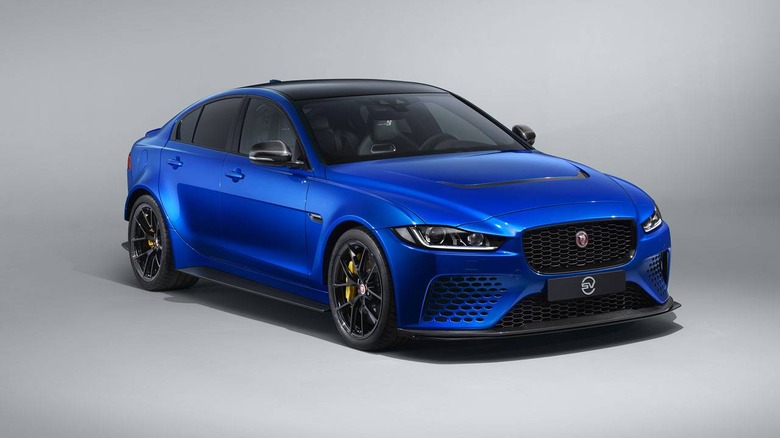 Jaguar unveiled the crazy XE SV Project 8 car packing lots of speed and power a while back. Jag thinks that there are folks out there that might want to go touring in the Project 8 car, so it has made a version that is slightly less bonkers for this crowd. The new version is called the Jaguar XE SV Project 8 Touring specification.The touring spec will sit alongside the 200 mph Project 8 derivatives. Jag plans to make no more than 15 of the four-seat touring spec Project 8 cars globally making the specification the most exclusive of the XE SV Project 8 derivatives. The limited edition touring spec has a discrete fixed spoiler rather than the larger aerodynamic rear wing of the other Project 8 cars.
The touring spec will be offered in one of four Project 8 paint finishes that include British Racing Green, Velocity Blue, Valencia Orange, and Corris Grey Satin. Touring spec cars will make 600PS and have 0-60 mph performance of 3.3 seconds and a top speed of 186 mph. The top speed of the other Project 8 flavor is 200 mph.
Since the rear spoiler is changed, Jag also changed to a fixed front splitter to maintain the aerodynamic balance of the car. Power is still via a 5.0L supercharged V8 engine. Touring versions have no body decals as standard, but those are an option.
Pricing for the Jaguar XE SV Project 8 Touring will presumably start at the same range as the two-seat Track Pack or four-seat versions meaning £149,995 in the UK. There is no indication of if any of the 15 examples will come to the States. The touring spec is exclusively four-seat.