JackPod Mounts Your Smartphone On A Tripod Using Headphone Jack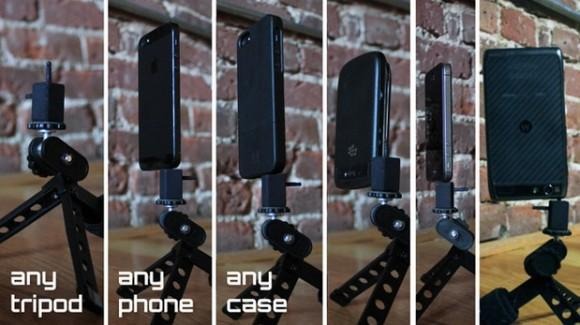 There are no shortage of nifty accessories gaining traction on Kickstarter. However, only a few of them catch our eyes, the JackPod being one of them. The Kickstarter campaign for the smartphone accessory just recently launched, and it's looking to revolutionize smartphone tripod mounts with a nifty new way to mount your smartphone.
The JackPod is essentially just a 0.2-ounce piece of plastic, with a screw hole on one end and two headphone jacks on the other, with one mounted vertically and the other mounted horizontally. The JackPod looks to be the easiest wait to mount and unmount your smartphone to a tripod, since it's literally as easy as plugging in headphones.
You simply insert the plastic 3.5mm headphone plug into the headphone jack of your smartphone, and your device is now mounted to a tripod. Of course, some users may be weary of mounting their smartphones from nothing other than the headphone jack, but for occasional use, we can't really picture a scenario where this would go bad. Obviously, if you're deep into smartphone photography, it might be better to get something a bit more sturdy, but for casual users this seems to be perfect.
Plus, the JackPod only costs $10, which is pocket change compared to most other smartphone accessories. For $10 more, you'll also get the UltraPod, which is a mini tripod that you can use alongside the JackPod. Both are expected to shipping sometime in May, and so far the campaign has reached over $5,000 of its $16,000 goal with 28 days to go.