Jabra shows off Bluetooth gear at MWC 2011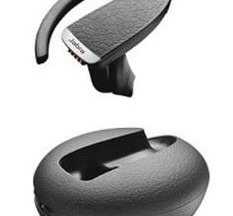 Jabra has shown off some of its cool new Bluetooth gear at MWC 2011. Among the gear that is being shown off at the show is the Jabra Stone 2 and the Freeway. The Stone 2 we have seen before back in November 2010 when it first surfaced.
The big feature of the Stone 2 is the voice control that allows for hands free communication and the voice system will tell the user who is calling as well and then calls can be answered or blocked using voice commands. The Stone 2 also has a wireless charger that recharges the headset on the go. The Freeway is a new device that is a first for the in-car speakerphone market and it will be coming to the US in Q2.
The device has three speakers that use virtual surround sound to make the conversation clearer than ever. If you have a noisy car that extra speaker will help things significantly. The Freeway has a motion sensor that turns the speakerphone on and off when it senses the door open or close making for better battery life without having to remember to turn the device off by hand. Pricing is unknown at this time.