Jabra BT2080 Bluetooth headset announced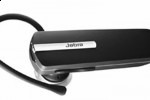 If having your run of the mill Bluetooth headset is not enough for you, then you might be interested in the BT2080 from Jabra, which actually features a built-in LED lights for easy battery life and pairing detection.
The whole idea of a Bluetooth headset is to make your life easier by keeping your hands-free to do other things while taking those all-important phone calls. But this latest Jabra headset strives to make your day even less complicated with the addition of an on/off switch that's separate from the volume and answer controls.
The LED lights positioned on the side of the device also make it easy to see how much battery life is left and if it's properly paired with your phone. It has an expected battery life of 6-hours for talk time. You can get the Jabra BT2080 in southeast Asia soon and in the U.S. shortly thereafter for $39.