iTunes profits continue to grow as users spend more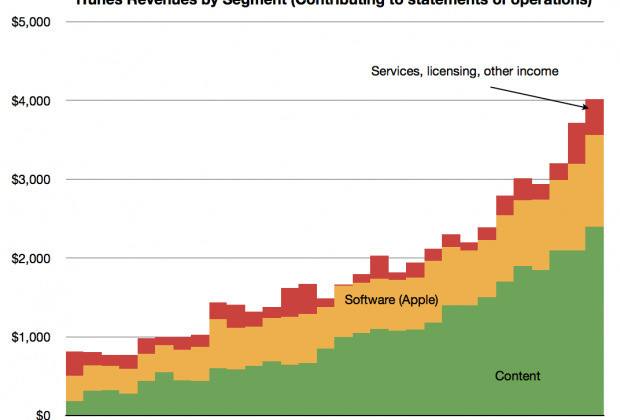 No one can deny the fact that Apple is doing impressively well with its App Store and iTunes. ITunes certainly revolutionized the music industry, despite the fact that many in the music industry didn't want to change. A new report has been published by research firm Asymco looking specifically at how much money iTunes users are spending.
According to the report, the average iTunes user spends about $40 per year on music, apps, and other content. The report also shows that during the last quarter iTunes revenues topped $4 billion. Apple also believes it can maintain its impressive growth rate stating it has a $16 billion annual run rate.
Asymco says that the content portion of iTunes revenue during the last quarter was $2.4 billion, which is a significant increase from the $2.1 billion in the previous quarter. The growth into Q1 was expected because many iTunes gift cards given during the holiday season are used during January. iTunes revenues have grown at an average of 29% per quarter for the last six years.
Apple is now offering iTunes music in 119 different countries. Apple also has 35 million songs in its music catalog. Music isn't all iTunes offers, movies are also available in 109 different countries and 60,000 titles are available. Another big market for iTunes is books with iBookstore available in 155 different countries offering a total of 175 million different books.
The App Store is now available in 155 different countries covering 90% of the world's population. The report also notes that developers have created over 850,000 apps for Apple devices including 350,000 made specifically for the iPad. So far more than 45 million downloads have been made from iTunes and 50 billion downloads are expected by the middle of May.
SOURCE: Asymco