Italian swimming pool is 40 meters deep, breaks world record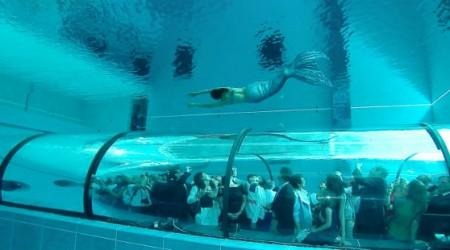 If some parents fret over their children's safety in swimming pools, they might be horrified to learn of this new death trap in Italy. The Y-40, also aptly nicknamed "The Deep Joy", is a swimming pool on the grounds of four star hotel Terme Millepini in Venice that might look normal on the surface, or even a few meters deep. But go even deeper and you will discover a pool, more correctly a tunnel, that reaches 40 meters deep. Deep enough for scuba divers and students to enjoy, sans the perils of an open sea.
If you haven't guessed it yet, the Y-40's name comes from its depth, 40 meters on the Y (vertical) axis. But the pool isn't immediately that deep. The surface is 21 x 18 meters and for up to a depth of 15 meters, it is your normal rectangular, and maybe even boring, swimming pool. Beyond that, however, the shape transforms into a cylindrical tube that makes up the rest of the 25 meters of the pool.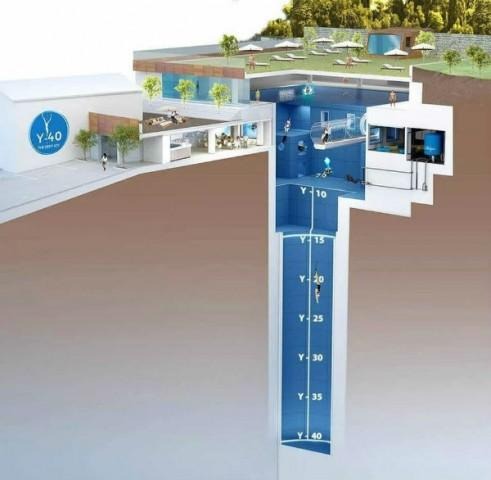 The Y-40 is design of architect Emanuele Boaretto, but those 40 meters aren't just for show. He envisions the pool to be become a major international diving spot. In fact, many features of the pool are geared towards divers and learners, including the series of caves at the bottom as well as the maintained temperatures of 32 to 34 degrees, allowing divers to do their thing without being encumbered by a wetsuit.
But the pool is also actually for show. At a depth of 5 meters, there is a transparent suspended tunnel for viewers to marvel at the pool's architecture and design without getting their feet wet, literally. And it is indeed a wonder, both in appearance and structure. A pool of this depth is just as hard to get right as a tall building and the right mix of materials are required to strengthen the whole structure. In the case of the Y-40, those materials include PLEXIGLASS for transparent areas, Flor Gres designed tiles, made of Geotech material, and four heavy duty filters from Culligan Piscine.
The Y-40 has been awarded the Guinness World Record for the deepest swimming pool, displacing the 34.5 meter deep Demo 33 in Belgium, who held that title for 10 years.
VIA: Sourceable