iStarUSA xAGE 902 HDD Docking Station Review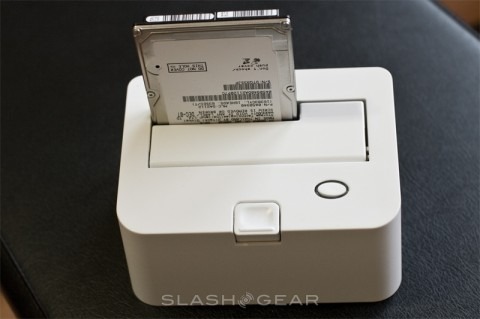 External drive caddies have been a boon for anyone wanting to switch one hard-drive between several systems. Start playing with more than one drive, however, and opening up the caddy gets tiresome: instead, take a look at the "toaster" style drive dock. iStarUSA's xAGE902-SAUF accepts both 3.5 and 2.5 inch drives in an easy-access top-loading slot. More than that, it offers no less than four different connection types – eSATA, USB 2.0, Firewire 400 and Firewire 800 – to suit all but the most stubborn of systems. Is this the last drive dock you'll ever need? SlashGear set to finding out.
In the box, there's the xAGE902-SAUF itself, its AC power adapter, eSATA, USB and FireWire cables and a printed instruction manual. Despite what photos might lead you to believe, the dock is surprisingly large, although the white ABS plastic casing means it dominates your desk less than iStarUSA's black versions.
Setup is straightforward, requiring you to choose between a connection – only one at a time – and then slot your hard-drive into the port on top. Power up, and the blue LED shows the juice is flowing while the red indicates drive activity. At this point, your drive should be recognized as a new volume by whichever computer it's connected to.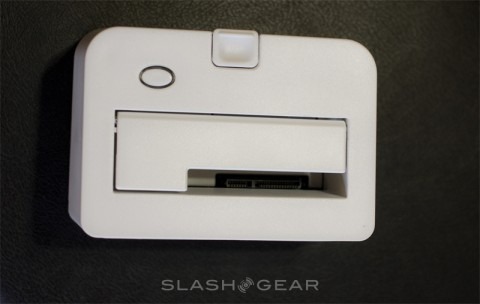 The xAGE902-SAUF supports hot-swapping – that is, you can unplug the drive from one computer and plug it into another without powering everything down first – as long as your motherboard does, though that only refers to the USB/eSATA/Firewire connections and not the docked hard-drive itself. After extended periods of use, drives can get very warm to the touch; the dock lacks any sort of cooling method.
While the ABS plastic casing is sturdy enough, we'd prefer to see some metal at least around the drive bay. Still, with an $84.99 street price it's sturdy enough, and we wouldn't want to be banging drives into the dock anyway.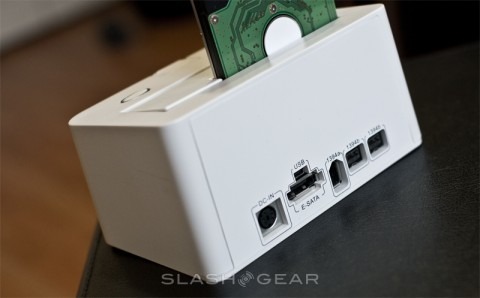 On paper, the 902-SAUF supports eSATA's maximum 3Gbps rate, USB 2.0's maximum 480Mbps rate, and Firewire 800's maximum 800Mbps rate. In practice, you're unlikely to ever see those theoretical speeds. On FireWire 800, I managed to get a stable 34MB/s transfer rate as opposed to 19.8MB/s on USB 2.0 (As I was cloning the MacBook Pro).
Given the range of other docks on offer, just from iStarUSA alone, you'd need to have a real demand for each of the connections the 902-SAUF offers. Cheaper models with one, two or three of the port types are available, and of course if you're looking for a more permanent connection for a specific hard-drive then you're better off with a full external caddy that will offer more protection and, potentially, cooling.
Still, for maximum flexibility you can't really argue with the xAGE902-SAUF. Anyone wanting to access multiple 3.5 and 2.5-inch hard-drives, no matter the platform or connection, will find something here to satisfy.
Quick Look Video