ISS receives cargo ship with 4 tons of food and supplies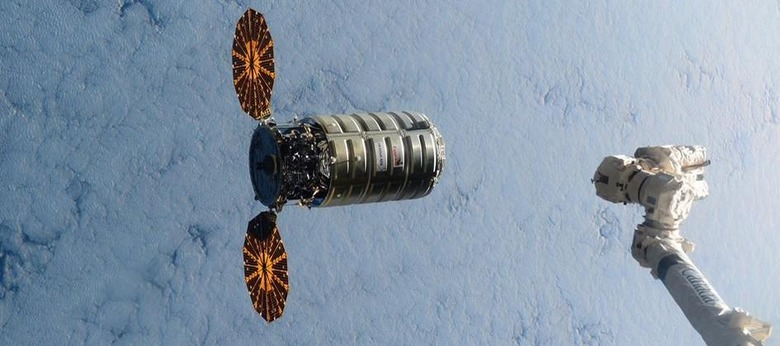 Things have gotten sparse on the International Space Station due to recent failed cargo launches. A couple days ago, Orbital ATK's Cygnus spacecraft launched with a payload destined for the ISS and, thankfully, did so without any issues. Now it has been announced the cargo ship was successfully docked at the space station.
The Cygnus cargo ship has taken a large payload of supplies to the International Space Station, including science gear, two of Microsoft's HoloLens headsets, oxygen and nitrogen tanks, a safety-oriented jet pack, hardware, and a bunch of food. In total, the ship has delivered more than 7,700lbs of supplies.
According to NASA, the cargo ship was successfully bolted to the space station's Unity module a little after 9AM. This is the first cargo ship that has been docked at Unity, and marks the end of a relatively long process — the launch had been delayed three days due to poor weather before finally taking place.
The cargo ship is going to stay up with the ISS for about a month during which time the astronauts will remove the supplies and load the vessel up with trash that has collected over the past few months. Once everything is squared away, the cargo ship will be returned back to Earth, a journey it won't survive. The spacecraft will burn up in the atmosphere.
SOURCE: Space Ref