iSkin Cerulean TX+RX and F1
iSkin has recently launched their CERULEAN line of iPod wireless audio accessories including a stereo Bluetooth headset and a transmitter/receiver combo for other audio output devices. The TX+RX is the combo package of the transmitter which has a dock connector on it, and the receiver that connects to a stereo or something of that nature.
The TX+RX runs on Bluetooth as well with the transmitter automatically seeking out and connecting to receiving devices. The F1 is the name of the Bluetooth stereo headset, which really just looks like a matched pair of mono Bluetooth headsets.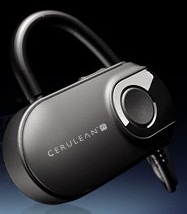 The F1 works in stereo mode when working with your iPod, but can also be simultaneously paired with a mobile phone and switches to mono automatically when answering a call. The TX+RX will run you £99.99 and the F1 will cost you £129.99 and you can buy both of'em now.
iSkin launches CERULEAN wireless iPod accessories [via techdigest]