Is This Google's Nexus Tablet? Probably Not.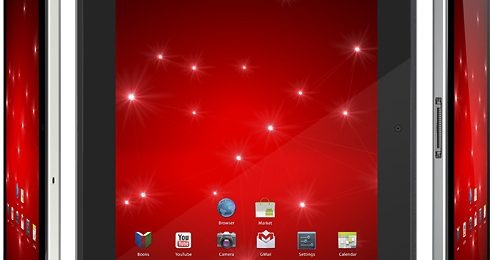 Quick: before you read the rest of this, run out to the nearest grocery store and buy as much salt as you can. We'll wait. Ready? OK, good. PocketNow has acquired a photo of what believe to be Google's rumored Nexus tablet. In the picture you'll see an extremely thin tablet without any branding, along with a myriad of ports one would expect to find on a modern Android tablet.
All the various ports are housed on one side of the device. In the picture, you'll be able to make out a microUSB port, standard USB port, a 3.5mm headphone jack, and what looks to be a full sized SD card slot. On the other side of the device is a power button, toggle switch (presumably for mute or rotation), and volume rocker.
The software on the device looks to be barren, only showing Google's application, with no signs of any widgets. PocketNow believes that's a hint that this is indeed the rumored Nexus tablet. It's a dubious picture, and could simply be a mashup of various different tablets, not to mention PocketNow's source gave absolutely no context for the picture. The Android Market icon is also clearly visible, when Google recently made the switch to the Play Shop.
Previous rumors pegged the Nexus tablet as being built by Asus. It would be a 7-inch tablet originally thought to have a quad-core Tegra 3 processor, but a later rumor by Android and Me said Google nixed that processor in order to drive the price point down. The tablet is said to come in between $149 and $199.
[via Android Community]