IRNSS navigation satellite launched to provide GPS-like services in India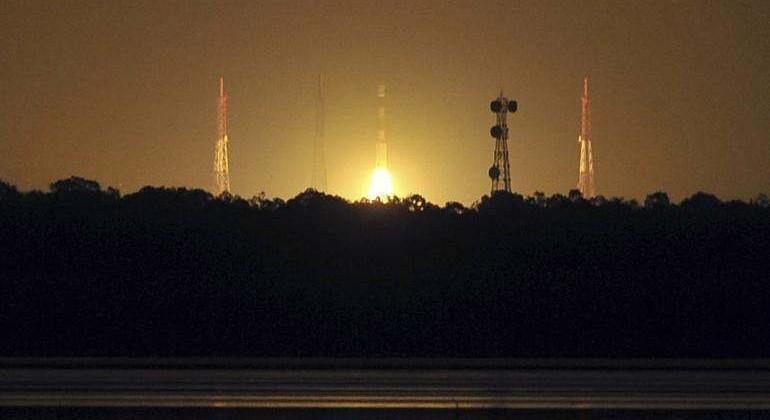 Last night, India successfully sent the satellite IRNSS-1A into space on one of its own rockets, making it the first of seven that will provide the country with a GPS-like navigation system. The rocket – called the Polar Satellite Launch Vehicle-C22 – was sent into space from the Satish Dhawan Space Center a little before midnight, marking "a new era of space applications [in India]," according to the Indian Space Research Organization.
The IRNSS-1A is now under the control of the Mission Control Facility, which will steer the satellite to its final destination using on-board motors. When in place, the satellite will be the first of a system to provide the citizens of India, as well as those positioned within about 1500 kilometers of the country's boundary.
Like GPS, Glonass, and other similar systems, IRNSS will be used to provide navigation that is accurate to within 20 meters, and will be used by both citizens and the nation's defense network alike. While specifics on how some of its use was not given by the ISRO, it was stated that IRNSS will be used for aerial, marine, and terrestrial navigation purposes, and will help with activities like disaster relief when necessary.
In total, this project costs in excess of the equivalent of $230 million, and is a work against the clock. The IRNSS-1A satellite, according to ISRO, has a lifespan of one decade, and the entire navigational system will not be complete and fully functional until all seven planned satellites are positioned in space. Because of this, any delays that take place in launching the rest of the satellites will reduce the amount of time the full system is in place before the first satellite – and each subsequent one – must be replaced.
Said an official with the ISRO: "All the seven satellites of the IRNSS are identical and the space agency will be rolling them out. Already the second one is getting ready for the year end or early 2014 launch. Only when all the seven satellites are up in the space the whole system will come into play. The earlier we have the full system it is better for all. For instance by 2015, the first satellite – IRNSS-1A – will be nearly one-and-a-half years old and its remaining life span will be eight-and-a-half years."
SOURCE: In Today
Image via IBTimes