iRiver photo frame is capable of MPEG4 AVC/H.264 encoded AVI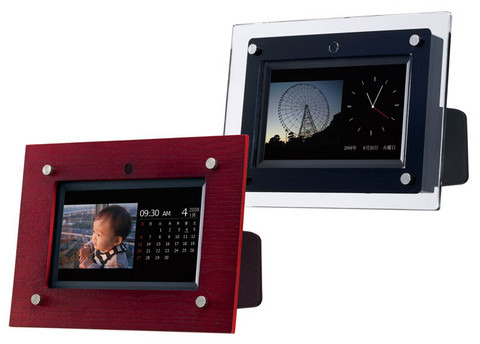 Wrapped in a lovely interchangeable clear acrylic or a brown wooden frame, this iriver Digital Photo Frame takes on digital still and motion images with its WVGA 7-inch LCD display. The 800x480 Framee-L is capable of 200cd/m2 display brightness and 500:1 contrast; it also packs an internal 1GB memory, and supports a variety of memory cards, including SD/MMC/Memory Stick/CF.
Video modes support high quality AVI format encored with MPEG4 AVC/H.264 in 720x480, 30fps at bit rate below 1.5Mbps, as well as motion JPG format up to 640x480 in 30fps. Like most digital frames; the iriver has a pair of embedded speakers, supports music playback with WMA, WAV and MP3 media files up to 320kbps.
Remote control comes equipped to manage slide show, movies and music from a distance. Additionally, the multifunction iriver can also replace your digital time piece to display calendar and clock with alarm feature. The L-framee is slated to hit the street of akihabara at December 20 with an estimated price of 17,800 yen ($198).