iPhone X first impressions: The 10 year itch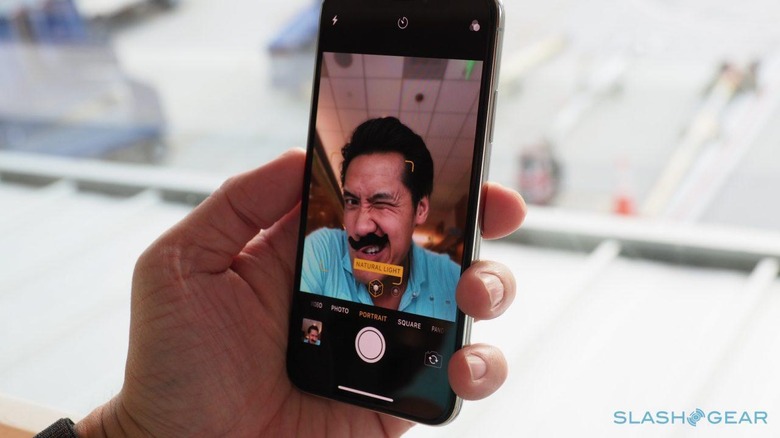 Dear friends and SlashGear readers, if you pre-ordered the iPhone X in time for delivery on November 3, or even within a week of that, congratulations. If you didn't pre-order for whatever reason, and have even the slightest interest in Apple's new flagship, then I'm very sorry to tell you that when your friends, family, and colleagues show up with their shiny new iPhone X, you're really going to wish you did. As of writing, the current shipping estimate is five to six weeks out. It's time to cash in whatever connections, favors, or blackmail material you have with your carrier's rep to have them set aside a unit for you. Either that, or get in line to buy one at an Apple Store this Friday. Trust me, it's worth it.
As far back as I can remember, Apple has never showcased a new, unreleased iPhone in its stores ahead of launch day. So, like most of you, since I wasn't at the iPhone X's media event it's only now that got to hold it in my hands. My overriding first impression is that neither product shots nor any of the video from Apple or others do this phone justice. In particular, the gorgeous 5.8-inch Super Retina 2436 x 1125 resolution display, with its 458 pixels per inch (ppi) density. Nothing I've seen in the aftermath of that event on September 12 prepared me for just for how premium it feels, nestled in the palm of your hand.
During a short product briefing, I was mesmerized by the custom-built OLED panel. It's a true High Dynamic Range (HDR) display with a 1,000,000 to 1 contrast ratio: it means that, where Google's Pixel 2 XL has been rightly criticized for its underwhelming and muted display, Apple's shines bright. Apple makes its usual bold claims about having the best color accuracy compared to all the current-gen smartphones on the market, but I suspect the iPhone X can cash the checks Tim Cook & Co. are writing. As the old saying goes, beauty is in the eye of the beholder and it's never been clearer in the case of the iPhone X.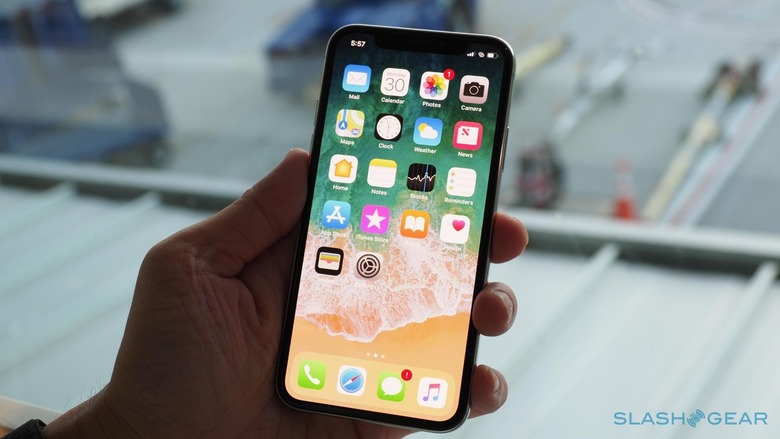 It's not just the panel in isolation, mind. The other strength in making photos, movies, games, and basically everything that shows up on the display come to life is Apple's True Tone technology. While we've seen it on the iPhone 8 and 8 Plus already, and of course the iPad Pro before that, on the iPhone X it packs a more accurate six-channel ambient light sensor, meticulously adjusting the white balance on-screen to sync up with the color temperature of the light in your surroundings.
The edge to edge display curves at the edge, its toughened glass blending into the stainless-steel band that runs around the periphery. It's made of surgical-grade stainless steel; Apple's secret sauce remains its insistence on materials that go just that little bit further than everybody else can be bothered to. The shine reminds me of the early iPhone models. My favorite color combo is the Silver, while the Space Gray still looks good but stands out a little less.
With all that screen, there's little room for Touch ID, and so it's replaced by Face ID. With Touch ID, there's a one in fifty-thousand chance of a random stranger successfully unlocking your iPhone: with Face ID, it's one in a million. If you've got an identical twin, then you should probably exercise some caution; the rest of us are probably safe.
Most everyone I've talked to since the iPhone X launch has raised concerns that Apple might sell their Face ID data. The short answer is, that's not going to happen. For a start, it's not Apple's business model. The more technical reason is that, like with Touch ID, your Face ID data is encrypted and protected with a key available only to the Secure Enclave, locked up on the iPhone X itself. That data never leaves the phone, and is never backed up to iCloud or anywhere else.
I enrolled my Face ID sporting a face mustache, which I later removed. Did I encounter so much as a hiccup? Nope. Face ID is seamless; this is the future and should give tomorrow's Apple devices a clear advantage over competitors as they scramble to catchup.
Enrolling your face is literally two steps, where you move your head around as though "painting" a circle with your nose. Over time, Face ID will track changes such as growing a beard. If you shave it all off, the system may ask for your PIN just to make sure it's you, but then it'll automatically start quietly learning you all over again. It doesn't require re-enrolling your face.
In practice, Face ID works so well, even after a short period I forgot it was even there. Glance at the phone, swipe up, and you're at the homescreen. If you want even less intrusion, you can deselect the "Require Attention for Face ID" option. Then, you're not even required to look at the iPhone before it'll unlock. You can also uncheck it if you find that some of your sunglasses prevent Face ID from working: Apple tells me that certain lens coatings can present an issue, though I had no problems with my polarized pair.
Applications that already use Touch ID should, if they're using Apple's APIs correctly, automatically transition to Face ID. As far as iOS is concerned, whichever version of Apple's biometric security you have can do the same thing. I tested this with password manager LastPass, which is yet to "officially" support Face ID, and can confirm that instead of asking for a fingerprint scan, my face was sufficient to unlock the app.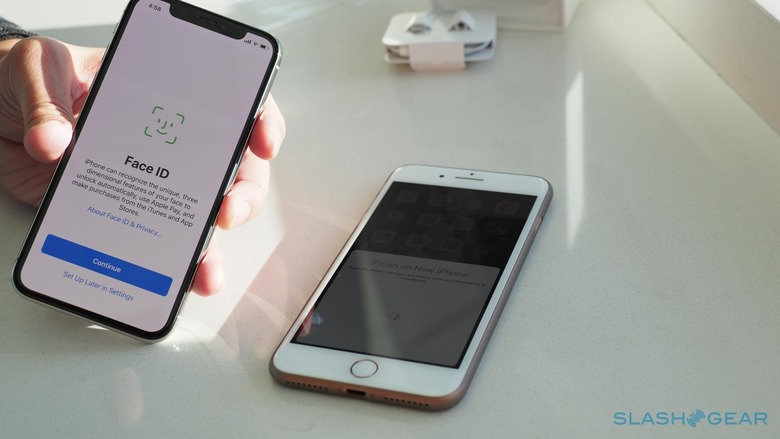 There's some serious tech behind Face ID, which I'll go more into detail in my full review. For now, just know that the TrueDepth camera is the key component. It literally maps the geometry of your face with 30,000 invisible dots. Arguably more fun, thanks to the TrueDepth Camera you can now take Portrait mode selfies. In theory, even with just one lens, the results should be on par with the dual cameras on the rear.
If there's been a learning curve during my initial time with the iPhone X, it's handling the loss of the home button. If you thought the change from a physical key to a touch-sensitive one a few years back was jarring to your muscle-memory, steel yourself for an even bigger evolution. Still, there are really only eight main gesture controls you need to remember.
1) Swipe up from the bottom edge to return home.
2) Multitasking is similar to the return home gesture, except you take a pause half way up. To close down applications, simply press and hold on one of the app. You can then swipe up or click on the "X" mark.
3) Control Center can be opened by swiping down from the top-right edge
4) In the event that the iPhone X locks up, you can force restart by pressing and quickly releasing the volume up button, then pressing and quickly releasing the volume down button, and finally holding the side button until the Apple logo appears.
5) Turning the device off requires pressing and holding the side button along with the volume up button, then swiping to turn off the iPhone. It's also the menu where you'll find the SOS feature.
6) You can take a screen shot by simultaneously pressing and quickly releasing the side button and volume up button.
7) Double-clicking the side button pulls up Apple Pay, which also uses Face ID for swifter access to your registered credit and debit cards.
8) Lastly, you can activate Siri by pressing and holding the side button.
Once again, I'll go more into detail about the rear facing cameras. For now, though, from my initial impressions, the wide-angle f/1.8 camera with optical image stabilization (OIS) delivers images about the same as the iPhone 8 and 8 Plus. Reserved only for the iPhone X is a new f/2.4 telephoto lens also featuring OIS; that's more than welcome, because videos shot with the tele-lens should now be actually usable.
I've left the iPhone X's most controversial aspect to last. To say the "notch" – the section of the screen which is cut out to accommodate the TrueDepth camera – has been well discussed over the past months is an understatement. I could quite understand people being reticent about it, indeed. All the same, like the iPhone X's physical charm, which doesn't become clear until you have it in front of you, in the metal and glass, after a short while the notch just stops being so visible. I suspect many who thought it would be a deal-breaker will discover that, in actual fact, it's far less of a challenge to live with.
Overall, even after a short period, it's clear that the iPhone X feels ultra-premium. Whether the $999 / $1195 (64 GB / 256GB) price tag is too much for you, well, that's something only you yourself can determine. If you were to ask me right now whether you should go with the iPhone 8, iPhone 8 Plus, or the iPhone X, I have to say my money is on the X. The additional money spent comes out to roughly one latte a month, if you're on a payment plan. In return for sacrificing your coffee, you get that incredible display, a smaller body than the 8 Plus but without compromising on screen size, and legitimately game-changing features like TrueDepth. Stay tuned for my full review for more.