iPhone Component Suppliers Revealed?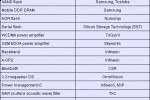 More information about the iPhone 3.0 was revealed today, in a timely counter to the Palm Pre. In fact, DigiTimes has come up with a listing of all the suppliers for the components to be included in the next-gen iPhone.
So it looks like CSR will still be taking care of the Bluetooth components, but OmniVision will take over the image sensor–which will sport 3.2-megapixels–and Samsung will be providing the memory.
We don't know who will be providing the processor, but there are several other companies listed as well, some that are not so familiar, for the GPS, power and baseband. While all of this seems pretty logical, nothing is confirmed as of yet, so I would still file this one in the rumor category for now.
[via Apple Insider]